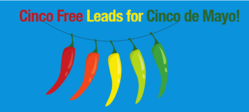 We have great products that we hope to promote using Cinco de Mayo as a hook for new customers. Sergey Margaryan
Encino, CA (PRWEB) May 01, 2012
Online insurance lead generator InsuranceFiles.com is announcing their Cinco de Mayo promotion. Every new agent that registers before or on the 5th of May will receive five free auto insurance leads that can be used within two weeks of signing up.
The promotion will be running from April 30th until May 5th, inclusively.
InsuranceFiles.com's goal is to promote their products with the help of the upcoming festive holiday. In commemoration of the celebratory nature of Cinco de Mayo, InsuranceFiles.com hopes to combine work and celebration in the form of insurance leads.
The type of auto insurance leads that InsuranceFiles.com sells and promotes has been designed to help agents write more policies while cultivating successful relationships with their clients.
For more information on this promotion and or on InsuranceFiles.com's unique and effective products, please email sergey.m(at)insurancefiles(dot)com or Audrey.l(at)insurancefiles(dot)com or visit InsuranceFiles.com.
InsuranceFiles.com is an online insurance lead generation firm who specializes in exclusive and semi-exclusive auto, life and commercial insurance leads. An easy to navigate website and expertly trained marketing associates brand InsuranceFiles.com as a trend setter. Their dedication to re-inventing the insurance leads business is paying dividends in the form of new business for insurance agents.