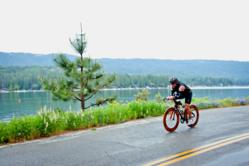 "The venue is what brings you to races. With all the bike racing I do, ultimately you have to had a good venue. A beautiful place with a smaller race will always bring me versus a more prestigious race without the venue. This definitely has that
Bass Lake, CA (PRWEB) May 01, 2012
Athletes are gearing up for the second annual Bass Lake Classic Triathlon taking place Saturday, June 2 at the popular resort area.
Bass Lake is located in the Sierra National Forest of eastern Madera County, about half an hour from the southern entrance to Yosemite National Park. It's known for its blue waters and ample recreational activities that attract numerous vacationers each summer. Bass Lake was also once a premier triathlon destination, a reputation the Yosemite Sierra Visitors Bureau is hoping to bring back.
"Bass Lake hosted the first two national championships for the sport of triathlon in 1983 and 1984," said Rhonda Salisbury with the YSVB. "The race continued at Bass Lake through the mid 1990's until the race director retired," she said.
The YSVB teamed up with esteemed race director Jonathan Grinder of Tucson Racing who has put on notable events around the US and beyond to resurrect the event last year. The inaugural event was a success, and this year's event looks to be even bigger.
"Last year we had about 200 competitors take part in the triathlon," said Salisbury. "This year we're on a pace to at least double that. People are excited about triathlon returning to Bass Lake."
Paul Thomas was last year's overall winner. He said the location certainly made the race memorable. "The venue is what brings you to races. With all the bike racing I do, ultimately you have to had a good venue. A beautiful place with a smaller race will always bring me versus a more prestigious race without the venue. This definitely has that," he said.
The triathlon will be taking place at The Pines Resort starting at 7 am. There is the Olympic distance, which encompasses a 1500 meter swim, 40 kilometer bike ride and 10 kilometer run. The sprint distance is a 500 meter swim, 20K ride and 5K run. Relay teams can also sign up at both the Olympic and Sprint level.
Entries start at $95 for adults, $60 for kids if postmarked by May 27. For full pricing or to register, go to http://www.BassLakeTri.com.
In addition to the triathlon, there is a 5K run with all proceeds going to the Boys and Girls Club of Oakhurst. Cost to enter the 5K is only $25.
Find more information in the area at http://www.YosemiteThisYear.com.