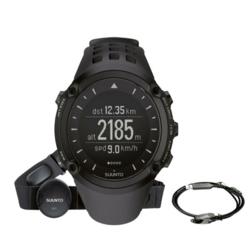 These GPS watch picks represent very specialized training computers for several different sports
Bozeman, MT (PRWEB) May 02, 2012
The top 5 GPS watch picks for 2012 have been released by the Heart Rate Watch Company. These are GPS watch units for outdoor athletes of various sorts including runners, cyclists, triathletes and mountaineering explorers.
"These GPS watch picks represent very specialized training computers for several different sports and it is exciting to see how far the GPS watch has evolved in the past 8 years", says Rusty Squire, President of the Heart Rate Watch Company. He continues, "I test these myself along with our cycling team members and a cadre of outdoor athletes, so these test are genuine but we encourage people to call us at 866-586-7129 for more detailed information".
The number one pick for 2012 is the new Suunto Ambit GPS watch for explorers and outdoor athletes. "Unfortunately, the popularity of this watch has well outstripped the supply and new orders won't see this GPS watch until September", states Squire. This GPS watch does altitude, speed, distance,barometric altimeter, way points, has a 3-D compass and is built more durably than any other GPS watch tested.
The number two pick for 2012 is the Garmin Forerunner 910XT for triathletes and ultra-runners. This watch works with ANT+ power meters, has a barometric altimeter, speed, distance, laps, strokes, works in conjunction with a Garmin foot pod for run cadence, and works with a Garmin cadence sensor for cycling. It offers triathletes every conceivable piece of data with the exception of heart rate in the swim.
The number 3 pick for 2012 if the Polar RCX5 Tour de France Limited Edition GPS watch. The new G5 sensor is tiny, roughly the size of a cell phone battery and fits neatly in a new clip to clip to waist belts or jersey pockets. This GPS watch also adds a new dimension regarding a race pace function for cyclists but it is a great set-up for runners, inline skaters and other outdoor adventure types.
The number 4 pick for 2012 is the Garmin Forerunner 610 touchscreen GPS watch, which was last year's number one pick. "I've used this watch daily for over a year now", states Squire. He adds, "For cyclists and runners that don't go out for longer than 8 hours this is my favorite GPS watch because it is a normal size, easy to navigate, and gets all the data".
The number 5 pick is the Timex Ironman Run Trainer which is a GPS watch specifically for runners. "This runner's GPS watch has more features and timing features than any other GPS watch under $220 that we have ever tested" states Squire.