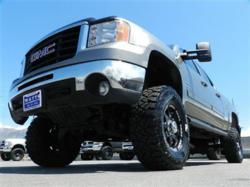 Overall, Watts says diesel engines are simply made better than gas engines and will last longer.
American Fork, UT (PRWEB) May 02, 2012
According to data from HybridCars.Com and Baum and Associates, diesel engine sales in the United States are up 35% and are expected to continue growing. To say the least, those at Watts Automotive are not surprised more Americans are opting for diesel engines these days. As a pre-owned truck dealership situated between Provo and Salt Lake City, Utah, Watts Automotive has been helping customers decide between diesel and gas engines for years. They recognize there are pros and cons for each engine type, but suggest diesel engines will become increasingly more popular if gas prices continue to rise.
In Europe, where gas prices have always been significantly steeper than those in the United States, diesel engines make up almost half of all vehicles sales. Unsurprisingly, as gas prices climb stateside, European automakers are trying to get Americans on the diesel bandwagon as well. Watts Automotive explains that diesel engines, although usually offered in larger vehicles like the trucks they sell, can actually save you money at the pump. This is because fuel is processed more efficiently by a diesel engine than a gas engine, causing a full tank of diesel to last about a third longer than a full tank of gas.
An additional advantage of a diesel engine is that it has more torque than its gas counterpart and thus is quicker to accelerate. Overall, Watts says diesel engines are simply made better than gas engines and will last longer. They do warn though, that diesels will cost more upfront, but this shouldn't be a deterrent for anyone looking to buy one. Rather, because diesels are worth more than the same vehicle equipped with a gas engine, the extra money paid for the diesel vehicle now will be reimbursed when it's traded in down the road.
About Watts Automotive
Watts Automotive is located in American Fork, Utah and is your state-of-the-art pre-owned truck dealership. With an expansive selection of used trucks, Watts Automotive is excited to be serving the automotive needs of the greater Salt Lake City and Provo metropolitan areas.