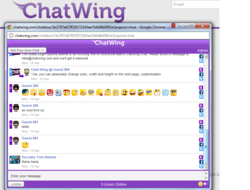 Dallas, TX (PRWEB) May 02, 2012
Seekers of poker rooms can now take advantage of a global-scale chat box known as Chatwing. This chat tool is built to provide an efficient stream of communication for different users far and wide.
According to Chatwing's developers, poker players had begun flocking in the Chatwing shout box as early as April. Most of them were asking about the poker room recommendations. This is why the Chatwing staff started branching out to poker communities. "Online poker rooms are field of opportunities—gold mines, if you may. Poker is also a strong niche, so we brought our business to this community. We plan to help a lot of people," says Ivan Diamond, a dedicated Chatwing developer.
One of the best noted things about Chatwing is the easy installation mechanics. In installation, users don't need to spend much time. To install the Chatwing chatrooms, the user must register his blog or website's domain name. Customization is the next step. The user can change the height, color, and title of the widget. Chatwing's developers advise users to change the title of their widgets to fit the theme of their blogs. Once everything is complete, Chatwing will now generate the HTML code necessary for embedding. Chatwing usually goes live in a matter of seconds.
Chatwing also allows its users to log in using their Facebook accounts. This makes information exchange easier because people can send invitations to each other. Now, poker players will get to know the hottest strategies that they can take advantage of. Website chat can also become interesting because of Chatwing's avatar displays and array of funny emoticons.
For interested users, Chatwing's Facebook page is always updated with fresh content. Adding to that, Chatwing's main website has already an active chat box ready to be discovered. From there, the user can start chatting right away.
About Chatwing.com
Chatwing.com has developed live chat software for websites and blogs. It caters to different online communities due to its high rate of connectivity. Everyone can create a customizable live chat box feature in 1 minute or less. Users have the ability to customize the size, color, and fonts of the chat product. The ability to chat via social media accounts such as Facebook and Twitter enable Chatwing to offer a personal and unique real-time experience to all sites. Chatwing is 100% free and very easy to use.