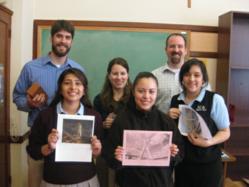 Through this opportunity, our students had the chance to see new possibilities for themselves and the ways in which they can impact their futures. - Lisa Graham, ICA Principal
San Francisco, CA (PRWEB) May 02, 2012
April 28, 2012 was a big day for fifteen of Immaculate Conception Academy's students. The students took first and second place in two contest scenarios, along with winning Best Overall, at the Engineers Alliance for the Arts bridge-building competition. The first place winners landed a spot for their bridge in a display at the 75th Anniversary of the Golden Gate Bridge at the De Young Museum.
After students prepared for ten weeks and met weekly with volunteer engineers to develop bridge concepts, the grand finale of the Engineers Alliance for the Arts city-wide bridge building competition took place April 28 at the PG&E Auditorium, where the students took home the championship title.
Student teams had the option of two scenarios from which to design their bridges, a pedestrian bridge in San Francisco for the America's Cup race, and a bridge for the tsunami-devastated area of Japan. The winning team chose the Japan scenario and named their bridge Utsukushii, meaning beautiful in Japanese. Paola Lopez, Martha Cuevas, and Melissa Vallecillo worked together to develop the concept and design and, as a team, presented the bridge to a panel of judges. The second place award for the San Francisco scenario went to ICA seniors Shane Agao, Estefania Lopez and Rachel Tegenkamp for their Pont Pierre bridge.
During the competition students had to describe the engineering concepts behind their design, along with demonstrating its functionality by placing a brick on the bridge. Entries were judged and given a cumulative score for artistic design, written and oral presentation, and design integrity and solution.
Gigi Torres, ICA Math Department Chair, said of the program, "We regularly hear about how articulate, professional, and poised the girls are. This is exemplified through the school's values of developing woman of faith, learning, community, leadership and vision."
Lisa Graham, ICA's Principal, remarked, "As EAA Founder Ashraf Habibullah said in his afternoon remarks, 'When students can be at the intersection of technology and creativity, exciting things happen.' Through this opportunity, our students had the chance to see new possibilities for themselves and the ways in which they can impact their futures."
Immaculate Conception Academy's win is particularly encouraging for the future of women in technology as it is an all-girls school for families with limited income. ICA has a work study program that enables students to earn a portion of their college preparatory education costs by working five business days a month in clerical entry level positions around the Bay Area.
Students who participated in the engineering competition had to concurrently balance a full school load and part time work load. Immaculate Conception Academy has had a strong record of 100 percent college acceptance for graduating classes; in 2011, 70% of ICA's graduates were the first in their families to go to college.
For more information contact Katie Mayberry, Marketing and Events Specialist at ICA, (415) 824-2052 ext. 40.
About ICA
Immaculate Conception Academy, a Catholic college preparatory school, educates young women for a life of faith, integrity and service. As a Cristo Rey school in the Dominican tradition, they are committed to providing both excellent education and meaningful corporate work study experiences to students of limited financial resources. Learn more about ICA at http://www.icacademy.org. Learn more about Cristo Rey at http://www.cristoreynetwork.org.