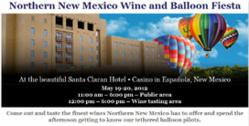 Santa Fe, NM (PRWEB) May 01, 2012
Wine tasting and hot air balloons are coming to the northern part of the State of New Mexico in mid-May, when the Northern New Mexico Wine and Balloon Fiesta, a Featured Event on the SantaFe.com calendar, arrives in Espanola, New Mexico, for two days at the Santa Claran Hotel • Casino from May 19th to May 20th. Both visitors and locals are invited to come out and taste the fine wines offered in Northern New Mexico and to spend the afternoon getting to know several tethered balloon pilots. The event is presented by the Albuquerque International Balloon Fiesta and The Santa Claran Hotel • Casino. Sponsors for the event include Xerox, Ferrellgas, the Espanola Valley Chamber of Commerce and Southern Wine and Spirits. Special visitor packages for the event are being offered by the Santa Claran Hotel • Casino that include hotel accommodations, golf and entrance passes to the event.
In addition to the fine wines, the Albuquerque International Balloon Fiesta will have hot air balloons and pilots on hand to entertain and enlighten guests about this increasingly popular sport. Seminars and workshops will be conducted on Saturday and Sunday.
Ticket Info: Purchase Tickets by phone at 877-505-4949 Entry Fee to Wine Tasting Area : $20. Tickets can be purchased on the day of the event, and wine club members of any of the participating wineries receive $5 off the entry fee.
About the Santa Claran Hotel • Casino:
Located on the ancestral lands of the modern-day Santa Clara Pueblo tribe, the new Santa Claran Hotel represents the values of those whose traditions surround us. The hotel's mission statement is based on the Pueblo's cultural traits of warmth, friendship and hospitality. After years of devoted development, Santa Claran Hotel offers the traditional style and simple yet elegant design of northern New Mexico. As soon as you drive up or walk in, you know that you're about to experience something extraordinary. From the eaves to the light fixtures to the paintings and carvings on the wood-panel walls, you will sense the spirit of the Pueblo all around you.
About SantaFe.com:
SantaFe.com provides locals and visitors to Santa Fe alike the most current interactive platform for events, music, arts, business, dining and lifestyle. SantaFe.com is a division of Hutton Broadcasting, located at 2502 C. Camino Entrada, Santa Fe, NM 87507
Contact Information:
Scott Hutton
SantaFe.com / Hutton Broadcasting
http://www.santafe.com
(505) 471-1067 (Media inquiries only, please)