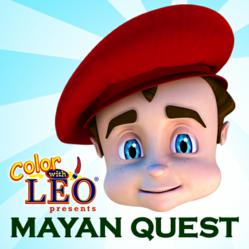 Children get to interact with Leo while improving their reading and fine-motor coordination skills.
Miramar, FL (PRWEB) May 03, 2012
Red Art Box Applications is quickly gaining recognition as a leader for interactive reading apps, specifically for the design of its Mayan Quest Activity Book. Children join Leo, a young artist looking for his lost art supplies in the Mayan Jungle, while enhancing their reading skills.
This interactive reading application, designed for the iPad, is made primarily for early readers aged three to five. The story can be enjoyed in three different ways: help me read – children can listen to the narration while tapping and listening to each word in any order while the text is underlined; read to me – the words are underlined as the story is read; and I want to read – the child reads without any assistance or narration from the application.
Conceptualized by a stay-at-home dad, Norman Silva, Leo's Mayan Quest has quickly gained recognition by special education teachers, specifically those who work with children with autism.
Silva is the creator of the Color with Leo® brand and has more than 10 years of experience in teaching and creating educational content for children.
Silva says teachers and occupational therapists are revealing that this interactive reading application assists children with hand-eye coordination, listening skills, visual perceptual skills and tracking, helps to increase attention span, improves reading comprehension and works to help children identify shapes and colors. These are all concepts used in therapies for autistic children.
In fact, the application is recommended by the organization "Autism Speaks," the nation's largest autism science and advocacy organization.
"The Mayan Quest app is an ideal interactive learning tool," shares Silva. "Children get to interact with Leo while improving their reading and fine-motor coordination skills."
Children may tap objects, slide them and move the iPad to make things happen on the screen. They can make monkeys swing; parrots squawk; and frogs croak.
Beautifully illustrated, each page offers interactive questions or puzzles and creates an enhanced reading experience. A subtle, atmospheric jungle soundtrack places the young reader alongside Leo in the jungle and among Mayan ruins. Objects within the illustration are related to the answers of the activity questions.
To learn more about the Mayan Quest interactive reading application, visit: http://www.redartbox.com .
The application is compatible with iPad and requires iOS 4.2 or later and can be purchased here for .99 cents: itunes.apple.com .