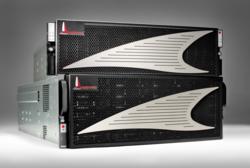 We're very impressed with the product that Starboard Storage is bringing to SME IT customers.
Broomfield, CO (PRWEB) May 02, 2012
Innovative MAST Architecture Delivers Over 2x the Performance of Legacy NAS/SAN at Half the Cost -- Starboard Storage Systems™, an innovator in Application-Crafted Storage™ for mixed workloads, today announced the results of an independent report from The Clipper Group, which states that the Starboard Storage System simplifies the deployment of a unified storage system and lowers the TCO for the storage infrastructure for Small and Medium Enterprises (SME). Additionally, the Clipper Group report states that with the Starboard AC72 Storage System™, SME data centers also should be able to improve the utilization and management of their storage resources and achieve significant improvements in performance, all while lowering the footprint and power requirements, further reducing the TCO of their IT infrastructure.
"We're very impressed with the product that Starboard Storage is bringing to SME IT customers," said David Reine, senior contributing analyst at The Clipper Group. "SME's need storage solutions that are less complex and easy to deploy in order to reduce the total cost of ownership of the IT infrastructure. Starboard Storage's solution breaks down the silos of traditional storage with a solution that promises to unify multiple storage architectures and deliver twice the performance at less than one half of the cost of legacy NAS/SAN solutions.
Analysis of the Starboard Storage solution is published in The Clipper Group report, available from Starboard Storage Systems Website http://www.starboardstorage.com
Most SME IT environments need to support multiple applications simultaneously. Using multiple entry-level systems to isolate workloads results in stranded storage capacity, fewer features and costly scalability. Legacy unified storage systems have twenty-year old outdated architectures relying on protocol layering that hinder performance for mixed workloads. An enterprise storage system capable of consolidating multiple workloads for SME can reduce management overhead, while increasing utilization. The Starboard AC72 Storage System does this.
"Our customer's want to simplify their operating environment affordably without sacrificing performance," said Lee Johns, vice president of product management at Starboard Storage Systems. "The Clipper Group's assessment of the AC72 reaffirms the potential for real business impact from the MAST architecture. SME do not have to sacrifice performance and management over price for their mixed workloads with the AC72."
The Starboard AC72 Storage System
The AC72 provides simple, efficient consolidation onto a single storage system, optimizing the configuration for each application by creating a Dynamic Storage Pool™ with virtual volumes tuned for each workload.
The Starboard AC72 Storage System also introduces the SSD Accelerator Tier, a second-generation tiering architecture that lowers operational overhead and provides predictable performance when and where it's needed. The SSD Accelerator Tier boosts performance for both reads and writes, providing optimally tuned storage that maintains consistently high performance for mixed workloads.
Combining dynamic storage pooling and automated SSD acceleration for each application workload offers SME a new level of simplicity in managing mixed workload environments.
In addition, Starboard Storage Apps simplify provisioning of volumes across multiple storage protocols including CIFS, NFS, iSCSI and Fibre Channel. Since the AC72 was specially designed to manage mixed workloads, IT administrators can dramatically reduce their time and costs in managing storage.
With the AC72 Storage System, you save as you grow with an all-inclusive software license that includes thin provisioning, mirroring, asynchronous replication and snapshots. The AC72 scales up to 474TBs with a completely redundant architecture.
Distribution and Availability
Starboard Storage Systems distributes its products through a network of high impact value-added reseller partners that share the goal of bringing Application-Crafted Storage solutions to market and into SME.
The Starboard Storage AC72 System is available now. The Starboard AC72 Storage System is priced at $59,995 MSRP for an all-inclusive storage system including 24TB storage, an SSD Accelerator Tier with three SSD drives, thin provisioning, asynchronous replication and snapshots. Customers can simply and affordably expand the system by adding Starboard AC72 Storage System Expansion Shelves. Both 15000 RPM and 7200 RPM SAS drives are supported.
The AC72 Storage System, with its innovative MAST Architecture, is designed to dramatically simplify managing mixed workload environments that include unstructured, virtualized, and structured data. For more information contact sales(at)starboardstorage(dot)com. The Evaluator White paper is available from the Starboard Storage Systems Website, http://www.starboardstorage.com
About Starboard Storage Systems:
Starboard Storage Systems is the innovator in Application-Crafted Storage™ systems for mixed workloads. Starboard Storage tackles the toughest storage problem facing small and medium enterprise (SME) IT administrators today — managing mixed storage workloads that include unstructured, virtualized, and structured data. Starboard's AC72 Storage System delivers on the promise of sophisticated yet easy-to-manage storage for mixed workload environments. Starboard's MAST architecture changes the price/performance equation relative to today's SAN and NAS offerings. http://www.starboardstorage.com