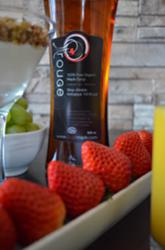 ROUGEmaple.com is bringing maple syrup into the world of fine gourmet foods.
Montreal, Quebec (PRWEB) May 03, 2012
Trying to find a great, unique Mother's Day gift? The search is over. ROUGEmaple.com a new startup, has come up with an ingenious way to ensure Mom gets her fill of that delicious sweet golden stuff and if lucky maybe she'll share! ROUGEmaple.com allows people to adopt their own maple tree and receive all the organic maple syrup the tree produces! Yes, that's right…adopt-a-maple-tree and receive pure organic maple syrup as well as a number of other maple syrup gourmet products at home or sent to the home of that special someone (like Mom!).
Adopting a maple tree guarantees the adopting customer two product shipments during the year (adoptions are for a period of one year). The first called the "Spring First Flow Package" consists of one liter (in two 500ml bottles) of ROUGE 100% Pure Organic Maple Syrup, tagged as "the best maple syrup you've ever tasted." The second shipment is the "ROUGE Gourmet Collection", consisting of ROUGE Maple BBQ Sauce, ROUGE Maple Mustard and ROUGE Maple & Raspberry Salad Dressing. So an adoption for Mom is truly the gift that will keep on giving throughout the year.
There have been reports of maple syrup shortages in some regions this year but with an adoption this is no longer an issue and it supports better environmental practices, claims a spokesperson for ROUGEmaple.com. "We prioritize our adoption orders and put them at the front of the line so that they receive their products first. Also, by adopting a maple tree the 'adoptive tree parent' ensures the longevity of that tree by supporting a producer who maintains certified organic standards. Organic maple syrup is cleaner and better tasting but more expensive to produce. It's a question of quality over quantity but also a question of what is healthier for the tree."
The bottle and packaging is unlike anything seen before in the maple syrup industry. ROUGEmaple.com has truly stepped far away from the traditional rustic, wood cabin look people usually associate with maple syrup. The maple syrup bottles are stunning, being designed and imported from Italy and equipped with a spill-proof pour spout, also a first in the industry. So , no more sticky bottles (how come nobody thought of this before?). The bottles are also reusable which again supports ROUGEmaple.com's commitment to being as "green" as possible. Both product packages come delivered in beautiful, decorative gift boxes that are also reusable.
And it doesn't end there. Along with the two product packages, an adoption customer also gets a free copy of the new "Official ROUGE 100% Pure Organic Maple Syrup eCookbook", with plenty of recipes to try as well as the "Certificate of Adoption" for their tree.
The ROUGEMaple.com website also offers numerous other unique gourmet maple products, in the ROUGE Shop section of the site. All are made with the same high quality, first flow, ROUGE 100% Pure Organic Maple Syrup.
For those looking for something a little different for Mother's Day this year, adopting a tree will make her discover the new gourmet side of the maple syrup world. They ship all over the world and Mom will truly appreciate the quality of the products as well as the exceptionally elegant packaging.
For more information visit http://www.rougemaple.com.