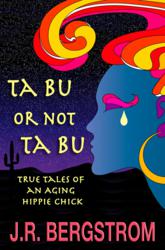 Respect yourself and never be afraid to say no and mean it.
Seattle, WA (PRWEB) May 03, 2012
JR Bergstrom, author and educator, has recently released Ta Bu or not Ta Bu: True Tales of an Aging Hippie Chick, which is a humorous account of a woman's journey to find her identity in a world of extremes during the 1960s. Influenced by happy TV fantasies from the 1950s she is molested at the age of 8 and the story describes the confusion and mental anguish she experiences as a result of conflicting realities and the rebellious idealism of her adolescence.
Raised to be the perfect virgin wife yet undergoing sex abuse at an early age, and then coming of age during the "free love generation" she experienced inner conflict, shame and confusion. Women were taught to be one way, yet many of their life experiences were the opposite. The author comments, "I wanted to remind people and teach younger women what it was like in our generation during the 1960s and how we were raised under one very strict code of values that were often violated, the conflict we experienced during the "free love" era and the struggle to create our identities during the sexual revolution. Some things are different today and some not. In many places in the world women still live by men's rules when it comes to sexuality". Her book exposes these conflicts in a humorous yet thoughtful way.
Having raised daughters she has been inspired to help other women find their true identity and voice in a world of extreme expectations. When asked what advice she would give a young woman, she states "Listen to your heart, respect yourself and never be afraid to say no and mean it. Ask for what you want and mean it, also know when to say yes."
Ta Bu or not Ta Bu; Tales of an Aging Hippie Chick is available online through Kindle and Nook.
About the author: JR Bergstrom was raised in Eastern Washington in the 1960s and received her elementary school teaching degree. She taught K-5, special education, gifted and talented classes and then focused on teaching art. She lives in NW Washington, has a great husband, three grown kids, has traveled the world extensively, continues to make art, grow gardens and pursue her writing which has been published online In More Magazine and Clover, A Literary Rag. She has also received honorable mention in The Writer's Digest Writing Competition and is working on her memoir, a collection of travel essays and a children's book