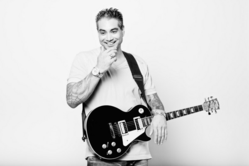 From your first lesson, I will have you playing. And, I will inspire you to keep on playing. The guitar is not an easy instrument to play; but if you aspire to be an accomplished player; I can get you there.
Fort Lauderdale, FL (PRWEB) May 04, 2012
Dyce's Fort Lauderdale guitar lessons for the college student on summer break can be purchased by the students themselves, or purchased as a gift. Students with no musical background are welcome, too: Dyce specializes in connecting with the absolute beginning guitar student. Dyce's Weston guitar lessons are provided at his state-of the-art studio in Fort Lauderdale, convenient to Miami, Weston and Fort Lauderdale, or online via Skype.
Dyce Kimura is a premier musician, and Fort Lauderdale guitar teacher. Well-versed in all aspects of the current music industry, Dyce is hip to all of the latest music & technology trends, breaking artists, and contemporary gear. (Before Dyce committed full-time to teaching, he was an in-demand session player in Miami's competitive studio scene, recording with scores of hip-hop, rock, blues and Christian artists—and is a nationally-recognized authority on the blues guitar).
Dyce's lessons never bog down students with endless theory. Instead, he emphasizes hands-on teaching: from the very first lesson, Dyce's students learn to play simple, lyrical grooves. By the end of the summer, they will be playing complete songs—that their friends will recognize, and can sing along with.
One university study conducted by the University of Toronto psychologists, and presented at the APA's 2003 Annual Convention—using over 1,000 children at 50+ schools—illustrated that there are many benefits to studying music. Young people involved with music learn new languages quicker, learn to read more easily, socialize better with others—and perhaps best of all—enjoy school more than their classmates who don't play music.
Summer break doesn't have to mean a dead-end job, or spending days in front of the PlayStation. Learning the guitar with Dyce's Fort Lauderdale guitar instruction for college kids can be a great way to spend the summer—all while providing them with lifelong skills.
For more information on giving the gift of Fort Lauderdale guitar lessons for your college student contact Dyce at (786) 457-3687 today.