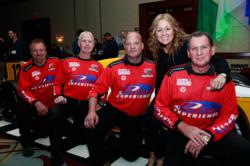 Social Media combined with Convention and Event Photography drives traffic to your website!
San Antonio, TX (PRWEB) May 02, 2012
Convention Photography and Event Photography has always been a part of every meeting, convention, conference or event but recently a new way of engaging your attendees beyond the reception, general session or breakouts is Social Media.
Joseph Rodriguez owner of Professional Images Photography has been making inroads with using Social Media with his multiple photography services. Recently in Indianapolis a client wanted to not just give a print to each guest but also drive traffic to their website. Taking a photo of group during a reception and wireless sending the image to a laptop with a assistant uploading to the client's twitter account helped drive attendees to back to their site and in addition give vital sales information.
Using Facebook with convention photography at tradeshow events increases "likes" on the company Facebook page and also creates opportunities to showcase their product or company. Using celebrity impersonators at your booth with a dynamic personality attract attendees and who doesn't want a photo with someone fun and different. This is an opportunity to engage the prospect, scan their badge ask for a business card and also give a card on how to download their image from the company Facebook album.
Another product is onsite-printing photography with a custom email that attaches the photo taken and can also simultaneously print the image. The ROI is tremendous and creates positive marketing results drives traffic to the company's website. Think of a great theme for your booth hire a convention photographer that specializes in Social Media and Onsite printing photography and you have a greater ROI.
About Us:
Professional Images Photography founded in 1987 provides Convention Photography, Conference Photography, Onsite printing, Corporate Photography and Event photography services Nationwide. The company is based in San Antonio, TX with offices in Houston, Orlando, Washington D.C. and now coming soon to Las Vegas, NV.