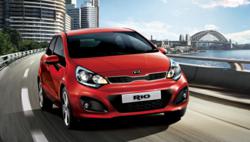 245,238 Kia vehicles sold globally in March for 13.4% year-on-year growth
(PRWEB) May 04, 2012
Kia Motors Corporation has announced its global sales figures (export sales, domestic sales and sales from overseas plants) for passenger cars, recreational vehicles (RVs) and commercial vehicles for March, recording a total of 245,238 units sold. This figure represents a year-on-year increase of 13.4%.
In March, Kia posted year-on-year sales increases in all regions of the world with an exception of Kia's home market of Korea – 29.4% in North America (64,133 units sold); 19.3% in Europe* (54,106); 19.1% in China (40,427 units sold); 8.0% in general markets (44,522 units sold)*; and an 8.8% decrease (42,050 units sold) in Korea.
Cumulatively, through the first three months of 2012, Kia's global sales have reached 636,398 units. North America and Europe have experienced the highest cumulative gains to date in 2012 of 30.8% (153,106 units sold) and 26.2% (128,661 units sold), respectively.
Kia's best selling model in overseas markets for March was the B-segment Rio (known as 'K2' in China) with 42,771 units sold. The Sportage compact CUV was the second best seller with 32,325 units delivered, while the C-segment Cerato (known as 'Forte' in some markets), D-segment Optima sedan and Sorento mid-size CUV followed with 29,429; 24,333 and 18,437 units respectively.
Tae-Hyun (Thomas) Oh, Executive Vice-President & COO of Kia Motors Corporation, said, "We are pleased to have continued sales growth in the first quarter of 2012, especially in North America where Kia Motors America set an all-time monthly sales record last month. We are confident that delivering world-class design, vastly improved quality and outstanding fuel economy in these times of rising oil prices are among several factors contributing to our strong growth in the first quarter of the year."