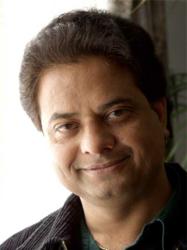 "To awaken to the absolute view is profound and transformative, but to awaken from all fixed points of view is truly amazing" – Mahendra Kumar Trivedi
Scottsdale, AZ (PRWEB) May 02, 2012
Mahendra Trivedi will be a featured guest on "The New Awakening Summit", along with 24 other transformational speakers. Mr. Trivedi's interview is on May 2nd at 9PM ET/ 6PM PT, and the public is available to attend, at no cost. The public can also attend Live Big Media's separate online event, "Awakening to Abundance" teleseminar series. This series will be broadcast at 8 pm ET/5 pm PT every Monday through Thursday beginning April 23rd, 2012. Mr. Trivedi's interview will be on 5/3/12.
There is a growing understanding in the hearts and minds of individuals that there is no limit to human consciousness and that now is the time to awaken it fully. Mahendra Trivedi is pointing the way. His Energy Transmissions have been reported by tens of thousands of people around the world, to have awakened their consciousness, with a break though impact.
On May 2, 2012, Mr. Trivedi has been invited to share his knowledge of how one can awaken their consciousness by strengthening their connection to Universal Intelligence at the "New Awakening Tele-summit". Other speakers include:

Entrepreneur, researcher and one of the featured stars of "The Secret" John Assaraf who will conduct an exclusive video interview.
One of the world's leading authorities on human behavior and personal development, Dr. John Demartini will talk about Mind Over Body: Understanding Hidden Agendas & Unconscious Motives.
Best-selling "Letting Go" author Guy Finley will discuss "Awakening to Being Fearless and Free".
Gary Douglas, Founder of Access Consciousness shares "Simple Tools for Easy Change and How to Learn to Communicate With Your Body and Trust Your Awareness".
Dr. Sue Morter explores The Bioenergetics of Awakening to your Highest Life Purpose.
Founder of Quantum-Touch Richard Gordon talks about "The New Human" and Redefines What It Means to Be Human.
Harrison Klein will awaken your mind to the core I AM Principles, which can totally shift your perceptions.
Participants can register at no cost for this entire series at: http://www.1shoppingcart.com/app/?Clk=4702414
On May 3rd, 2012, Daniel Gutierrez will host Mr. Trivedi on "Awakening to Abundance", where they will reveal how to become a powerful magnet for abundance in all areas of life. During the series, Mr. Trivedi will be joined by 36 other speakers who will also share their secrets on how someone can fully awaken to a life love and immediately manifest more abundance in their life.
Some of the 36 other speakers who will be featured on this series are:
Bob Doyle -Best-selling Author of "Wealth Beyond Reason"
Rikka Zimmerman - Renown Access Conscious™ facilitator
Larry Crane - Founder of the Release Technique
Sonia Ricotti - Best-selling author and founder of Lead Out Loud
Harrison Klein - Transformationalist and founder of the Masters Gathering
Debra Poneman - Best-selling author and founder of Yes to Success, Inc.
John Assaraf - New York Times best-selling author featured in The Secret
Participants can register at no cost for this entire series at: http://www.AwakeningToAbundance.com/MTrivedi