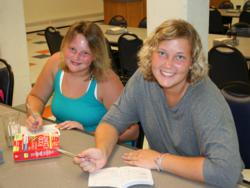 "At WellBalance, we aim for all of our campers to leave knowing how to lead healthier, happier lives," John Gordon, CEO
Asheville, NC (PRWEB) May 02, 2012
WellBalance, a leading health organization that runs summer weight loss camps & residential adult programs for ages 20-29, is promoting National Mental Health Awareness Month by emphasizing the healthy diet and exercise habits overweight and obese individuals need to improve.
As part of the mental health curriculum for this summer's weight loss camp as well as the Support at Home program for alumni, WellBalance has modified its assessments, lifestyle coaching, and nutritional counseling that will help develop and reinforce the diet and exercise changes conducive to healthy living. WellBalance will provide this behavioral curriculum with weight loss campers this summer as well as share some of this insight on John Taylor's Weight Loss Blog.
"One of the biggest struggles our campers face is altering their self-perception," said John Gordon, WellBalance CEO. "Many of our campers come to us feeling like they can't be successful in achieving their ambitions. Our mental health approach is such a critical element of our healthy living approach. Campers are able to deconstruct reasons why they don't see themselves being successful, and then come up with strategies with will allow them to meet their long-term wellness goals. At WellBalance, we aim for all of our campers to leave knowing how to lead healthier, happier lives."
Mental Health Awareness Month was started by the National Mental Health Association in 1949, and they aim to increase awareness of mental health through two different themes. Their Do More for 1 in 4 campaign promotes to the one in four Americans who live with a diagnosable and treatable mental health condition that they can achieve recovery. The Healing Trauma's Invisible Wounds emphasizes the impact of traumatic events on individuals and families, something that many WellBalance campers have experiences with.
"We have worked with a number of campers who have experienced a great deal of emotional trauma in their lives," said John Taylor, Vice-President of Programs at WellBalance. "Whether it is bullying, social isolation, or a very poor self-image, WellBalance campers benefit from health coaching sessions led by licensed clinicians. One of our biggest goals is to help campers realize that while reaching a healthy weight is important, they are worth a heck of a lot more than the number on the scale indicates, and they deserve to be happy."
According to a 2010 study in the Journal of School Health, a clear relationship exists between obese youth and negative body images, symptoms of depression, poor self-esteem, and being unable to develop feelings of happiness. WellBalance aims to help our weight loss campers overcome all of these negative feelings, and as part of National Mental Health Month, continue to offer our continual care through our Support at Home program to help clients continue their journey towards a healthy lifestyle.
For more information about WellBalance fitness and weight loss camps and the mental health curriculum for overweight adolescents, please contact John Gordon at (800) 975-0435.
###
WellBalance designed the ME Plan to Motivate & Educate on what medical research shows works for sustainable fitness, weight loss, and health success. Founded by professionals and guided by experts who have led some of the largest behavioral health, mental health, and treatment programs in the country, WellBalance is working to become the leader with a focus on improving an individual's overall health. WellBalance developed the WellBalance Health Score© to rate a person's overall medical, emotional, and fitness health status as well as show a person's progress towards health norms. WellBalance operates summer camps, local programs, and fitness programs for adults. For additional information please visit http://www.wellbalance.com or call (800) 975-0435.