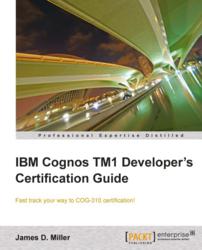 Get to grips with the different types of data that can be drilled into and learn the steps to create a drill-through process and rule
Birmingham, United Kingdom (PRWEB) May 03, 2012
Packt is excited to announce the publication of it's latest IBM Cognos TM1 Developer's Certification Guide, a book that provides a perfect study outline and self-test for each exam topic. Allowing the reader to learn the functions of each Cognos TM1 component, this book will also help them understand the importance of the time dimension in Cognos TM1.
About the Author:
This book is written by James D. Miller, an IBM Cognos TM1 consulting practitioner since 2004 with over 30 years of relevant business management, systems design and implementation, data rationalization, and proven project delivery experience. He currently owns the following IBM certifications:
IBM Certified Developer - Cognos TM1 (perfect score 100% on exam)
IBM Certified Business Analyst - Cognos TM1
IBM Cognos TM1 Master 385 Certification (perfect score 100% on exam)
IBM Certified Advanced Solution Expert - Cognos TM1
IBM Cognos TM1 is one of the most popular multidimensional analysis tools used to build collaborative planning, budgeting and forecasting solutions, as well as analytical and reporting applications. This cube-based technology does fast number crunching at the server end and helps end customers move away from manual and tedious processes.
After reading this book, developers will learn the two most basic objects in TM1 - Dimensions and Cubes, along with instructions on their purpose, manual construction methods, and use. It will enable them to master the purpose and use of Cognos TM1 Turbo Integrator as well as identify the advanced tabs in Turbo Integrator.
The readers will be able to comprehend the definition and purpose of virtual and lookup cubes in Cognos TM1 and focus on techniques for presentation and reporting of data in Cognos TM1. This book includes different types of data that can be drilled into the process and it teachs readers the steps on how to create a drill-through process and rule.
Packt Publishing has also released and is due to publish other Cognos titles:
IBM Cognos TM1 Cookbook (Published)
IBM Cognos 8 Planning (Published)
IBM Cognos 8 Report Studio Cookbook (Published)
All Cognos books are Published by Packt Enterprise. Packt Enterprise is a publishing division of Packt Publishing designed to serve the information needs of IT Professionals in the Enterprise space. Packt Enterprise also publishes on Microsoft, IBM, Oracle, Citrix, Java, Amazon, Google and SAP technologies.