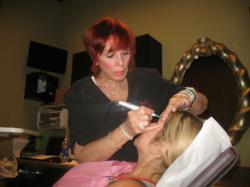 Permanent makeup can and should be the best value in the beauty industry for New York women who lead busy, active lifestyles.
New York, NY (PRWEB) May 02, 2012
Nowhere does life go by faster than a "New York Minute." The popular saying measures the fastest paced lifestyle in the United States and probably the world. You know this. You live this. Permanent Makeup Expert Artist Sally Hayes knows it, too. That's why she's put time and effort into launching her new website which offers complimentary consultations. Now in just a few New York Minutes, women can discover how easy it is to save time and effort every day for years to come while looking their personal best on the job, on the go, or out on the town.
"In and around New York, women are judged on their appearance. Every woman knows she needs to look her best but doesn't want to waste precious time applying and re-applying makeup, and worrying about smudges, smears, or run-offs," says Sally Hayes. "Permanent makeup is popular because it empowers a woman to put her best face forward and enjoy added confidence in her appearance. It gives her the freedom to live her life whether it means being more productive in her career or having more free time to do what she loves or be with who she loves."
Ed Koch was Mayor of New York in 1986 when Hayes began her permanent makeup career after being trained by prominent plastic surgeons. Since then she has made women around the world happy in performing tens of thousands of permanent makeup procedures including eyebrow tattoos, permanent eyeliner, permanent lip color, and cosmetic camouflage for facelift scars and areolas. She has worked mainly out of her Permanent Makeup Scottsdale location, as well as regularly seeing clients in the beauty meccas of Las Vegas, NV, and Los Angeles, CA. Now she is excited to open her Permanent Makeup New York practice in Tribeca, one of her favorite places in a city where she has history.
"I've been going to New York since back when you could go up near the top of the Statue of Liberty," says Hayes. "I have good friends in Manhattan, have trained some of the leading permanent makeup artists there, and been invited to work on celebrities there. I wish it wouldn't sound so cliché, but the truth is I love New York."
On the heels of the widespread popularity of traditional body art tattooing, permanent makeup has boomed into a multi-million dollar industry in the U.S. Also known as permanent cosmetics or micropigmentation, this painless cosmetic tattooing process features the art of creating the appearance of makeup by depositing dermatologically tested pigments into the dermis layer of the skin. When done by Sally Hayes you bypass the pain and risk of knowing you could go to anyone who calls herself or himself a permanent makeup artist regardless of their level of skill, quality, or experience.
"Unfortunately, I see clients a few times a week who want me to fix bad permanent makeup done by someone else," admits Hayes. "This hurts them and me because it goes against the main benefits of permanent makeup which are to save time, money, and effort with an enhanced and natural-looking new appearance. Permanent makeup can and should be the best value in the beauty industry for New York women who lead busy, active lifestyles. And when you compare the benefits my clients enjoy to Botox or dermal fillers for a similar cost, you get enhanced facial beauty which lasts a couple of years to longer than a decade, not just a couple of months. That's a whole lot of New York Minutes. "
About Sally Hayes Permanent Makeup
Sally Hayes is the nation's leading permanent makeup expert artist who has performed tens of thousands of successful permanent makeup procedures in a career spanning more than 25 years. She is endorsed by and referred to by many of the top cosmetic surgeons in the country.
For more information, visit http://www.PermanentMakeupNewYork.ORG.
Contact Information:
Sally Hayes Permanent Makeup
44 Hudson Street
New York, NY 10013
(718) 644-2366