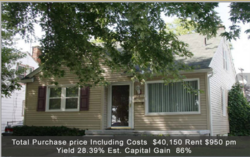 We made a decision early on to focus on building a high quality team of people who shared our integrity and values so that we can offer peace of mind and transparency to our investors
Brisbane,Queensland (PRWEB) May 03, 2012
In the last year or so there have been plenty of Australian Investment Property vested interests painting a negative picture of investing in American Real Estate. Neil Jenman, a renowned Consumer awareness expert, the Sydney Morning Herald in their piece "US Property: The risks Of Buying A Bargain Basement" and even Scott Pape, the "Barefoot Investor" has pointed out the risks on his website.
In Australia, the traditional way for property investors with cash,self managed super fund holders or people with a line of credit to have access to the American real estate market has been through either attending seminars where the seminar organiser will attempt to sell you amazing sounding property deals or getting on a plane and hoping you happen to find a real estate agent that has integrity and access to the foreclosure market. Those that fall into the first category,buying property at seminars will generally be paying $75,000 for a property that the seminar company bought for $30,000 and spent $5,000 doing it up. Those that get on a plane and even with great levels of research hot foot it around cities looking for a needle in a haystack, well they generally fail to find a needle in a haystack and end up with a property that they have bought because it was well sold to them. They then have the problem of managing it, engaging tradespeople, navigating their way around local real estate laws and taxes and generally getting a thoroughly underwhelming experience.
Having been running American Property Investment Trusts for several years very succesfully, USA Foreclosures Pty Ltd is now launching their service towards individual investments. Phil Gerathy Managing Director of USA Foreclosures Pty Ltd says "In our early days of investing in US real estate" we really struggled to get value because every market has it's own unique factors but after trawling around and spending a lot of time and money we realised that Michigan was by a long way the most compelling market to invest in. This is due to it's innovative economy and we made commercial agreements with the full infrastructure support services like agents,accountants,lawyers and property management experts to be able to offer a full package to our usa investment property trusts and now to individual investors." Gerathy continues "We made a decision early on to focus on building a high quality team of people who shared our integrity and values so that we can offer peace of mind and transparency to our investors. This means that our investors buy at foreclosure market price and pay us a small finders fee, so they are not paying the inflated prices that the seminar companies and others in our marketplace are offering."
The US Bureau of Labor Statistics just reported that Michigan unemployment was now down to 8.3%, having fallen from 14.1% in 2009. General Motors and Chrysler both based in Michigan just reported record profits and business across the board is starting to really take off again in Michigan. The window of opportunity that Phil Gerathy calls "once in a generation" Investment Property for Australian investors could be narrowing before our eyes but he says "25% yields and 50% capital gains are still standard fare for our investors".