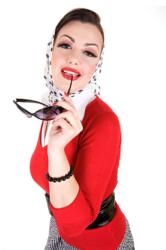 Our model advice days are very reflective of the typical working shoot
London May 2nd 2012 (PRWEB UK) 2 May 2012
Meet the team from La Mode London. The specialists in providing all the latest modelling advice introduce themselves.
With London modelling agencies not taking on many new faces in the current climate, La Mode would urge any model, whether they are a new or seasoned pro, to master the art of self promotion. With their dedicated 'shoot days', providing a professionally produced modelling portfolio and a portfolio website for each model, the company with capital model connections also offer free advice from a variety of experts during the photography and advice day.
'I'm very proud of all my team', continues Helen. 'From fashion stylists to hair design, shoot coordination to creative direction, we have an amazing group of people all working hard together to transform a model into a superstar for the day.'
She goes on to explain that while a model is being made up, he or she is able to gain an insight into the modelling industry, and is encouraged to seek help with any insecurities they may have from the resident fashion stylists, hairdressers, creative directors and photographers.
We meet Alexyi Reneece, a flambuoyant fashion designer with glitz and glamour in his blood. At the height of the Neon 80's and Naughty 90's he began to put his skills to practice doing makeover looks for his mum and childhood friends. Together with hair and makeup, art and fashion have always been of great interest to Alexyi. Exploring his creativity with real life models is his dream. He is happiest when creating and his motto says it all, 'a woman should be a work of art or wear a work of art.' In 10 years he has built up a solid relationship with clients.
Antonio Genco is a professional photographer with a first class honours degree and a published book to his name. Having worked on Specials on the set of Harry Potter, and also for Hello magazine and their celebrity weddings, he was also the Photographer Of The Year 2010. As the new kid on the block at La Mode, he says he loves the organised chaos he experiences which really does reflect the fashion industry, fashion shows and fashion shoots. He explains, 'it feels more like a family at La Mode, all working as a team. We want to give our clients the most amazing experience and the warmest welcome to the fashion world. For me personally, I get great satisfaction when I start shooting someone shy and very insecure and by the end of the session, they are brimming with confidence and are very enthusiastic about getting into the fashion industry '
Marcy is a trained hairstylist from the Toni and Guy Academy and has worked for those Vogue, Glamour and Elle magazine. She has done shows for designers such as Dolce and Gabanna, Vivienne Westwood and Burberry and has worked for London, Paris and New York fashion week.
'I love working for La Mode Model Advice as the team are very professional but also very friendly. I have worked for lots of other studios and La Mode is second to none when it comes to quality, professionalism and caring for their clients and their model advice days are very reflective of the typical working shoot.'
It seems the team at La Mode are one big happy family, sharing their knowledge and expertise for any model or actor who requires a helping hand. Meet more of the team at http://www.lamodelondon.com today.