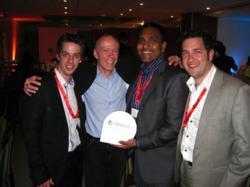 In recent years, we have developed a reputation for taking on challenging Alfresco implementations that other systems integrators have failed to deliver and complete them on budget and on time.
London, UK (PRWEB UK) 8 May 2012
Zaizi, a leading open source systems integrator, today announced that Alfresco, the leading open source platform for enterprise content management, has awarded Zaizi the Best Systems Integrator Partner of the Year for 2012, which was selected from a group of over 80 EMEA system integrators (SI).
This award recognises the excellent work done by Zaizi in helping clients across UK, Spain, South Africa and Asia successfully deploy Alfresco solutions. The award was presented to Zaizi at the annual Alfresco Partner Conference in Cannes, France on 25th April.
The criteria for the Partner Awards was three fold as partners had to monetarily display new business momentum, show the quality of the Alfresco implementation as well as the innovative nature of their work.
Zaizi is the only UK based Alfresco Platinum Systems Integrator to have given this award.
"We would like to thank Alfresco for this great honour and our clients for helping us achieve it" declared Aingaran Pillai, CEO and founder of Zaizi. "Our Best Partner of the Year award coupled with our Platinum Partner awarded just earlier this year, is both confirmation of our work in the past and our commitment to the future. We will not rest on our laurels, but continue to improve in our endeavors."
"When clients come to Zaizi, they recognize that they are going to the best Alfresco engineers outside of Alfresco. Zaizi advises its clients on their content strategy, operation and technology plans, as well as delivering global enterprise content management solutions. In recent years, we have developed a reputation for taking on challenging Alfresco implementations that other systems integrators have failed to deliver and complete them on budget and on time. This has been for some of the top retailers, banks, governments, engineering firms."
Zaizi is currently expanding, particularly in Spain, which has a large Alfresco presence. In addition to the 'Best Partner of the Year' award, Zaizi prides in having a CEO who is also an Alfresco Certified Engineer, who ensures that Zaizi provides the highest level of service and support.
The Alfresco and Zaizi synergy unites two industry innovators, with unrivalled pedigree in their respective fields of enterprise content management and implementation, resulting in world-class solutions for enterprises.
Together with Alfresco and its other partners, Zaizi is hosting a UK public sector event to highlight the success to date of open source solutions within UK government. Aingaran Pillai has also recently been invited by the Kingdom of Bahrain government to speak about the future of mobile technologies at its recent "Bahrain International eGovernment Forum 2012". Further details can be found at http://opengov.zaizi.com/
About Zaizi
Zaizi is an experienced open source information and technology consulting firm headquartered in London specialising in the Alfresco ECM platform and Liferay portal solutions.
We work with large commercial and government organisations to improve productivity, reduce operating expenditure and reduce risk by delivering robust, scalable content solutions including document and web content management systems, portals and corporate extranets.
With expert staff and strong business readiness skills, we design, build and support innovative, assembled software solutions to deliver fast-to-market and cost-effective content management solutions.
About Alfresco Software
Alfresco is the open platform for social content management. The platform combines the innovation of open source with the stability of a true enterprise-class platform, at a tenth of the cost of legacy ECM solutions. The Alfresco content platform uses a flexible architecture to provide document management, web content management, records management and social collaboration to customers and partners in 40 countries. Headquartered in London, Alfresco was founded in 2005 by a team of content management veterans including the co-founder of Documentum, John Newton, and former COO of Business Objects, John Powell.