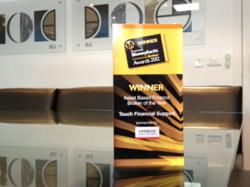 London, UK (PRWEB UK) 4 May 2012
It used to be the case that arranging tax efficient asset finance for your business just involved a meeting with the salesman from one of the big leasing companies, a haggle over rates and away you'd go. As the generally bank owned leasing companies sought to reduce their running costs so the likelihood of a face to face meeting became less, and the lending decision became more scorecard driven. From the bank's perspective this made sense, but it made life hard for the SMEs that couldn't command the attention they needed.
Into this space came Touch Financial acting as a broker between a wide selection of finance providers, and the end users. Touch Financial work with a range of lenders to secure the right finance at the best available price for their SME clients. And fast!
Touch Financial is the UK's largest asset finance broker. It was awarded best broker at Business Moneyfacts' March event in recognition of its consistent performance through rigorous monitoring over the preceding 12 months, which included feedback from the broker community.
Simon Carter, Director of Touch Financial says: "To win this industry leading award reflects our standing within the Asset Based Finance sector and we are proud of the efforts of all our team in reaching this significant milestone."