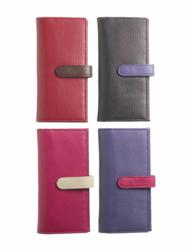 Indulge your Mother with a Luxury Gift this Mother's Day
Gloucestershire, UK (PRWEB UK) 3 May 2012
Buying presents for loved ones is never easy. It has just got a little bit easier, as Luxury Artisan is offering 20% off its collection of gorgeous luxury gifts for Mother's Day.
From exquisite handmade leather purses to timeless Italian leather handbags, Luxury Artisan offers a large collection of luxury gifts. There will be that perfect gift for Mother's Day on the site, one that she will truly appreciate and cherish for years to come.
All of Luxury Artisan's leather goods are handmade in Italy from the finest quality leathers and materials, so they should last a lifetime.
Mother's Day is a celebration honoring Mothers and celebrating Motherhood, and celebrating Mother's Day can be traced back to ancient festivals. Although it falls on different days of the year, depending on country, the most popular date for Mother's Day is the second Sunday of May, which falls on May 13th this year.
Luxury Artisan believes that Mothers around the world are special, and therefore deserve a special gift for Mother's Day.
About Luxury Artisan:

Luxury Artisan is an internet retailer of luxurious Italian leather goods
All products are handmade in Italy from the finest quality leathers and materials
Since launch in 2011, Luxury Artisan has supplied quality leather goods to customers worldwide
More brands coming in Summer 2012
Follow Luxury Artisan:
Facebook: LuxuryArtisan
Twitter: @LuxuryArtisan