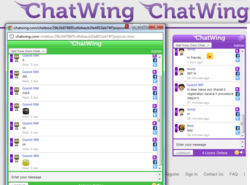 Bangor, ME (PRWEB) May 02, 2012
Stress is now a common denominator in the cyberspace and one of the probable evidences is the emergence of stress blogs. It has been proven that one of the best ways to combat stress is to find someone to talk to. Now, stressed people will get the chance to blow their steam off by using a website chat tool known as Chatwing. This application specializes in providing over 100% global connection.
Chatwing is versatile enough—a single user can talk to different people in real-time, discussing numerous topics imaginable. The most common topics in Chatwing are humor, leisure, relationships, trends, business opportunities, and even hobbies. "It is really built for entertainment and communication. Think of Chatwing as a lounge where people can gather and discuss many things," Says Michael Diamond, one of the developers of Chatwing.
Chatwing is also a widget, so bloggers can use it to communicate to their visitors. Some bloggers who used Chatwing have seen great improvements when it comes to the online presence of their blogs. The chat box made their blogs busy, and the bloggers usually open up with controversial and timely topics. "People love to talk about anything. In this case, they usually want to discuss the posts in a blog. In this manner, people can forget about the stressors of their life, even for a moment," Another remark from Michael Diamond.
Facebook integration is also one of the best features of the Chatwing shout box. Through this, guests and visitors can now log in using their Facebook accounts. This eases up the rate of personal information exchange. People can now send out Facebook invitations to each other in Chatwing. This has been noted useful for people who are looking for Facebook groups and pages to discover.
Users who want to discover the real potential of the Chatwing website chat tool can visit its Facebook page. The page is updated with fresh and useful content. Alternatively, Chatwing's chatrooms website has also a built-in chat box to discover.
About Chatwing
Chatwing.com is a free shout box for all web pages or blogs. It also lets anyone create free chatrooms on any website or blog. The Chatwing.com website offers users the ability to signup and create a customizable live chat box instantly with few details. Users have the ability to select the size, dimensions, and colors of the shout box. The ability to live chat with Facebook, Twitter or guest avatars is a unique feature which includes social sharing features in real-time. Chatwing is free chatroom software available to any user.