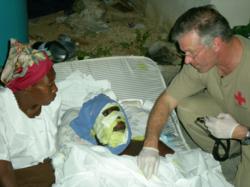 The night underscores not only the important work that is being done by the MMDR teams but also how generous and passionate Middle Tennesseans are about helping the poor."
Dr. David Vanderpool
(PRWEB) May 04, 2012
Mobile Medical Disaster Relief, http://www.mmdr.org, inaugural fund raiser was a great success. Hall of Fame Head Football Coach, Gene Stallings, was the night's lead speaker. After having travelled to Haiti the month before with the Mobile Medical Disaster Relief team, he was passionate about leading the charge to raise funds for the suffering in Haiti.
Rudy Kalis of Channel 4 news did a wonderful job emceeing the evening and brought a unique perspective to the night as only a reporter with his experience could.
Big Daddy Weave provided great entertainment for the packed house with their new top hit, "Love Come to Life".
The silent auction was particularly lively with items from Sheryl Crow, Brad and Kim Paisley and Dolly Parton driving the bidding through the roof. One of the highlights of the night was the live auction of a quilt made by a group of Haitian orphans. It was so exciting to see A-list Nashvillians bidding on a quilt made by poor Haitian orphans!
The 562 people who turned out on a rainy night underscores not only the important work that is being done by the MMDR and Live Beyond Teams but also how generous and passionate Middle Tennesseans are about helping the poor.
Mobile Medical Disaster Relief provides medical care, clean water, nutritional support and micro finance solutions to the developing world after natural and man made disasters. Dr. Vanderpool's practice, LAVE MD, http://www.lavemd.com, funds MMDR.