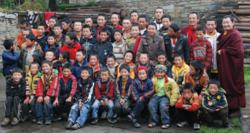 We put every dollar we raise to good use, and it has directly benefited over 20,000 Tibetans.
Boulder, Colorado (PRWEB) May 03, 2012
Tibetan Village Project (TVP), a non-profit, small-scale development organization, has launched a new website to help potential donors and volunteers connect with projects in Tibet. The site highlights past and upcoming projects in four categories: education, social enterprise, health and eco-tourism.
The new website outlines the goals of the organization and describes the current projects. It also provides a gallery and blog for project participants to share their experiences and photographs.
The site's creator, Dan Panzarella, said, "Ultimately, our goal was to create a visually impactful, user-friendly, dynamic site that clearly embodies the mission, accomplishments, and direction of Tibetan Village Project. Vibrant images convey a visual journey while the new blog section and success stories seek to engage, share, and inspire members and supporters."
"The site incorporates an invigorated menu to clearly define our mission, what we do, and how visitors can directly impact the lives of those we empower and educate. The new logo attempts to capture the essence of TVP's work: to create a bridge between communities and resources, individuals and education, Tibetans and the world at large. The bridge - composed of social enterprise programs, cultural and environmental awareness, micro-loans, and business training - provides the possibility for sustainable development and traditional preservation for years to come."
TVP founder Tamdin Wangdu helped design the new site, and he hopes it will help the organization reach a wider audience. "TVP has become an important bridge between Tibetans in Tibet and those who wish to help them in a very practical way," he said. "In the last 10 years TVP has partnered with over 2,000 trusted contributors as we put every dollar we raise to good use, and it has directly benefited over 20,000 Tibetans."
Tibetan Village Project is a non-profit, non-political organization dedicated to promoting sustainable development while preserving the rich cultural heritage of Tibet. TVP's projects are small-scale initiatives that work directly with Tibetan villagers and with local government through project-coordinators chosen from each village who know the local situation, understand the culture, and speak the language.