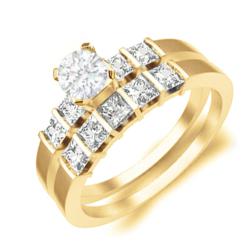 Citrine Rings and Citrine Engagement Rings have always been very popular with women
Cockeysville, MD (PRWEB) May 03, 2012
Yellow is the new color added on JewelOcean.com, with the introduction of all new Citrine Rings collection. JewelOcean is continuing to add more Gemstones to its collection and Citrine is the newest collection. Citrine first became popular in late 1700's when it was discovered that beautiful yellow shade can be achieved by heating Citrine to a required temperature. Since then Citrine Jewelry, specially in the form of Citrine Rings and Citrine Engagement Rings have been increasingly popular.
Following this popularity trend, JewelOcean has launched the new Citrine Rings collection which showcases all kinds of Citrine Jewelry, with emphasis on Rings. Customers visiting the Citrine collection would find a unique showcase of engagement rings made with Citrine in many styles. Most of the Citrine engagement rings feature white diamonds also, and they are made with either white gold or yellow gold. Customers looking for cocktail rings, would also find a unique collection of Citrine Rings which focuses the beautiful yellow gemstone at very affordable prices, starting from only $149 onwards.
Since rising in popularity in late 1700's, Citrine has been attributed to various believes and myths. Citrine is suppose to bring good luck in marriage and business. While this might not be the primary reason women love Citrine Rings, this is one of the reasons Citrine is popular with both men and women who wear Rings made with Citrine. Another major reason for the rise of Citrine popularity, besides its obvious natural beauty in its yellow color, is its affordability. Citrine Rings are much more affordable than other major gemstones such as Sapphire or Ruby. At JewelOcean, the inexpensive side of Citrine Rings is further enhanced as the company specializes in selling affordable and inexpensive rings.
Women visiting JewelOcean would find beautiful designs in Citrine Engagement Rings which are set with diamonds to enhance the beauty of Citrine. All Citrine engagement rings in the collection are set on either white gold or yellow gold, however they are still available at affordable prices.
JewelOcean is a jewelry manufacturing and retailing company specializing in retailing diamond rings and cheap engagement rings. Besides providing diamond engagement rings at affordable prices, the company's strength is in providing excellent customer service. With thousands of positive customer reviews and customer ratings on JewelOcean.com, customers would find making a purchase very easy. For more information on the Citrine rings collection, please visit the company website.