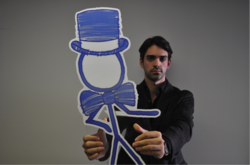 We're more than a social media company; more than an SEO company. And if you want to be truly successful in digital, you've got to be.
Troy, MI (PRWEB) May 02, 2012
It's time to get Digital. That's the sprawling headline that greets visitors of Blue Wheel Media's newly redesigned website, and the unofficial motto of the emergent digital marketing start-up.
Launched less than a year ago by 23-year-old Metro Detroit entrepreneur, Trevor George, Blue Wheel Media has experienced remarkable growth in its relatively short existence. With a client roster that continues to add reputable national and global brands, and a budding young team at the forefront of its field, Blue Wheel Media rolled-out a fully-redesigned website to reflect the evolution happening internally.
Among the recent additions to Blue Wheel Media's ever-expanding stable of clients is international lifestyle brand, The House of Marley. Specializing in superior quality, Earth-friendly products inspired by the spirit of reggae legend Bob Marley, The House of Marley plans to expand its digital reach with an extensive full circle marketing campaign designed by Blue Wheel Media.
This unique "full circle solution" is at the heart of Blue Wheel Media's success, making it a key focus of the new website as well. "The consumer has less and less time in their daily lives," George explains. "As technology continues to advance, the digital space continues into chaos. The solution I've developed helps tackle this fragmentation by touching the consumer across many different channels at once."
Many digital agencies have the same list of service offerings, using terms like "Social Media Agency" or "SEO Firm" to define themselves. Blue Wheel Media, on the other hand, actively combines its wide range of services across multiple digital channels into one fluid marketing effort to maximize return for clients. "It's all or nothing," George says. "We're more than a social media company; more than an SEO company. And if you want to be truly successful in digital, you've got to be."
Blue Wheel Media's tactics – based on George's keen grasp of the evolving digital space, and outlined on the company's new website – have not only enabled impressive growth for clients, but rapid company growth as well. In fact, George's success in the digital field has inspired him to develop another tech venture. Over the past several months, George has raised $250,000 for an innovative new mobile and web platform called Magic Moments. "Digital trends show all things pointing to photos... with Magic Moments, we're taking photos one step further," George says, careful to not reveal too much before the platform's launch.
Considering his track record so far – at the age of 23, no less – there's little doubt this growth is just the beginning for George and Blue Wheel Media. "The younger generation is driving complete marketing solutions for bigger brands," he says. "We understand how to leverage the digital landscape better than anyone, because we helped create it."
For more visit Blue Wheel Media's brand new website at http://www.bluewheelmedia.com.