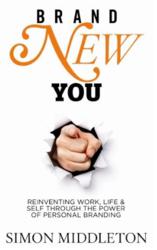 You can make substantial and extremely positive changes in your life if you apply the right strategy.
(PRWEB UK) 3 May 2012
New book "Brand New You" by the brand expert turned banjo retailer and manufacturer, Simon Middleton, aims to guide anyone to make dramatic and positive changes in their work, business and personal lives.
"It's not quite Zen And The Art of Banjo Maintenance, but that might not be a bad subtitle," says author Simon Middleton of his new book which is published on Monday May 6th by Hay House.
"Brand New You", published on Monday May 7th, is the third book from the former brand strategist, who reinvented his career last year and has become the UK's leading specialist banjo retailer. The author says that anyone can learn to apply simple but strategic brand thinking to their own lives: to find a better job, change career completely, and even enhance relationships.
Actually sub-titled "Reinventing Work, Life & Self through the Power of Personal Branding", this is not a dry or prescriptive business book that will explain how to swot-up for an interview or merely improve your CV. Instead Middleton shows that by examining your story, finding your strategy, paying heed to your audiences and establishing a 'brand', readers really can make transformative changes.
Middleton says that creating a strong personal brand can improve prospects at work, help anyone stand out dramatically from the crowd and secure the job they really want, and even improve prospects in finding a romantic partner.
The author has applied the techniques to his own life, transforming himself in the mid-1980s from ad agency creative director to high profile brand adviser, and then again last year to retail entrepreneur. In October 2011 he launched Banjos Direct, which is riding the wave of interest in traditional music and has become the UK's leading specialist brand in just six months.
Over three years he has written three books: the first two being popular business guides and the new one being the first intended for a general audience. He is also frontman of a rising acoustic roots band The Proposition, whose debut album King Snake Devil Shake was released earlier this year to glowing reviews in the music media.
Middleton says it's his 'brand' thinking which has enabled him to change direction at will and to thrive in several fields.
"Brand is about story, and there's no more exciting story to create than the story of your own life. We're all much more in charge of our destinies than we sometimes believe. My book is about taking charge of your own life," he explains.
Middleton's approach is a long way from what he calls the "ask the universe school of wishful thinking".
"I believe we can all make real and often transformative things happen in our lives, but not by just hoping for things to happen. You have to think strategically and then combine vision with practical steps. That's what my book is about. I've done it for myself and you can do it too," Middleton explained.
Author information:
Simon Middleton is one of the UK's leading brand consultants and an expert on branding and a highly-experienced personal reinventor. He has advised organisations and individuals all over the world and Simon has appeared on BBC Newsnight, BBC Breakfast, Bloomberg, Sky and CNN to discuss brand stories.
He is the author of popular business books Build a Brand in 30 Days and What You Need to Know About Marketing, and he is a retail entrepreneur and founder of folk instrument brand Banjos Direct. He is also frontman of critically acclaimed modern folk band The Proposition, and Associate Producer of Bluegrass documentary film The Porchlight Sessions.
For publicity enquiries please contact Angharad Vernon-Hunt on angharadhunt(at)hayhouse(dot)co(dot)uk 0208 962 1244
Download a high–res image of the book jacket here.