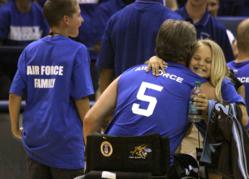 Arlington, VA (PRWEB) May 03, 2012
The USO returns for a third straight year as a proud sponsor of the 2012 Warrior Games held in Colorado Springs, Colorado. This week long annual Olympic-style athletic competition for wounded, ill and injured service men and women from all branches of the military is a highlight of the USO catalog of support provided to our nation's healing heroes and their caregivers.
"The Warrior Games is an opportunity for the USO to demonstrate our commitment to supporting our nation's healing heroes and their families," said Sloan Gibson, USO President. "The USO supported them during their service at home and overseas and we will continue to be there for them as they transition to civilian society. The dedication and determination of these modern warriors is an inspiration to us all."
In addition to supporting the games and competing athletes, USO volunteers from the local Rocky Mountain USO handed out boxed lunches as well as hot sandwiches to the athletes and family members during today's shooting competition held at the U.S. Olympic Training Facility. The USO Mobile has also been onsite throughout the games to support athletes and their families with snacks, beverages and a "support sign station" for fans to make signs for their favorite athletes.
"Many people associate the USO with support for our nation's forward deployed troops- through our entertainment tours and our nine centers located throughout Afghanistan," said Susan Thomas, VP, Warrior and Family Care. "Support for those deployed troops and our nation's military families is paramount, but the USO also sees a huge need to support our returning warriors as they transition to civilian society. Our support for events like Warrior Games as well as other our other initiatives and partnerships like those that provide wounded with the tools to successfully transition to the civilian workforce and our support for the caregivers is also so vital to the ability for these healing heroes to generate hope for the future."
The event, organized and led by the U.S. Olympic Committee, is also supported by the Department of Defense, Deloitte, U.S. Department of Veterans Affairs, the Fisher House Foundation, the Daniels Fund, AT&T, BP, DeVry, Anheuser Busch and Chobani.
220 wounded, ill and injured service men and women from the Army, Marine Corps, Navy, Air Force, Coast Guard, Special Operations Command, and United Kingdom Armed Forces will compete in events such as archery, cycling, wheelchair basketball, shooting, swimming, track & field and sitting volleyball. Athletes with disabilities including - amputations, spinal cord injuries, post-traumatic stress and traumatic brain injury (this category also includes cerebral palsy and stroke) are eligible. Earlier in the year, participants competed in order to be selected by each individual branch of service on an invitation-only basis based on disability. For more information about USO programs to support our nation's wounded, ill and injured and their families and caregivers visit http://www.uso.org/warriorandfamilycare.
About the USO:
The USO (United Service Organizations) lifts the spirits of America's troops and their families millions of times each year at hundreds of places worldwide. We provide a touch of home through centers at airports and military bases in the U.S. and abroad, top quality entertainment and innovative programs and services. We also provide critical support to those who need us most, including forward-deployed troops, military families, wounded warriors and their families and the families of the fallen.
The USO is a private, nonprofit organization, not a government agency. We rely on the generosity of our volunteers and donors. In addition to individual donors and corporate sponsors, the USO is supported by President's Circle Partners: American Airlines, AT&T, Clear Channel, Kangaroo Express, Kroger, Lowe's, Northrop Grumman Corporation, Procter & Gamble, and TriWest Healthcare Alliance and Worldwide Strategic Partners: BAE Systems, The Boeing Company, The Coca-Cola Company, Lockheed Martin, and Microsoft Corporation. We are also supported through the United Way and Combined Federal Campaign (CFC-11381). To join us in this patriotic mission, and to learn more about the USO, please visit uso.org.