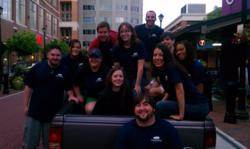 "The Make-A-Wish Foundation provides hope to so many children that are in need of a miracle coming true. Foundation Financial Group feels so blessed that we're able to be a part of this event," said Raymond J. Drohan
Atlanta, GA (PRWEB) May 02, 2012
A team of employees from Foundation Financial Group's Atlanta regional center, located at 100 Galleria Pkwy, Suite 1400, participated in an event that benefited the Make-A-Wish Foundation. Employees of Foundation Financial Group volunteered their time at the Run for Wishes event and made a monetary donation to the Make-A-Wish Foundation of Georgia and Alabama.
"The strength that these children maintain despite the illnesses that they face is remarkable," said Foundation Financial Group's Atlanta Division General Manager Raymond J. Drohan. "The Make-A-Wish Foundation provides hope to so many children that are in need of a miracle coming true. Foundation Financial Group feels so blessed that we're able to be a part of this event."
The Run for Wishes was held the morning of April 28 at Atlantic Station in Atlanta. Twelve Foundation Financial Group employees from the company's Atlanta center participated in the event.
About Make-A-Wish
Make-A-Wish grants the wishes of children with life-threatening medical conditions to enrich the human experience with hope, strength and joy. Founded in 1980 when a group of caring volunteers helped a young boy fulfill his dream of becoming a police officer, Make-A-Wish is now the largest wish-granting charity in the world. With the help of generous donors and more than 30,000 volunteers worldwide, Make-A-Wish has granted more than 280,000 wishes around the world since its inception. The Georgia and Alabama Chapter of Make-A-Wish has granted over 5,000 wishes locally and has over 800 children waiting for their most heartfelt wishes to come true. To learn more, visit ga-al.wish.org and connect with us on Facebook facebook.com/makeawishgaal and Twitter @MakeAWishGA @MakeAWishAL.
About Foundation Financial Group
Foundation Financial Group, one of the nation's fastest-growing financial services companies, specializes in mortgage lending, property and casualty insurance, life insurance, retirement services, personal taxes and corporate tax services. Foundation Financial Group operates seven regional centers as well as a branch network of retail storefronts across the Midwest. Foundation Financial Group offers mortgage refinancing and first-time buyer lending through traditional financing, as well as Federal Housing Administration and other government-backed home loan programs. Foundation Financial Group enjoys an A+ rating from the Better Business Bureau, the highest accreditation the BBB gives, and an industry-leading Federal Housing Administration compare ratio. For more information, call 866-334-1001 or visit ffg.com.
###
For additional information, interview and image requests, contact The AXIA Public Relations Firm at 866-999-2942, ext. 700.