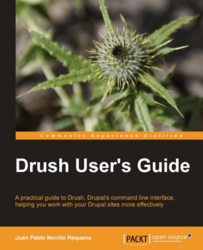 First and only book to cover Drush in detail
Birmingham, UK (PRWEB) May 04, 2012
Packt recently announced the release of its new book Drush User's Guide. It is the first and only book to cover Drush in detail, and is packed with clear step-by-step instructions for building and maintaining Drupal sites from the command line.
Drush is a command line shell and scripting interface for Drupal. It is not a module, and does not participate in the usage statistics system at drupal.org and was originally developed by Arto for Drupal 4.7 in May 2007.
Drush User's Guide will help a user to be more productive and efficient in building and maintaining their Drupal sites. Majority of tasks like building and maintaining a website can be achieved with a single Drush command. Users can learn how to install Drush on different systems, and download and install a full Drupal site in seconds.
The book is a practical guide filled with examples and step-by-step instructions to start using Drush right from chapter 1. Users can back up their files, code and data in one single file, clear the cache, interact with databases, and deploy sites to remote machines – all using simply the command line. They can also manage modules and users, monitor messages and run automated tests.
This book is for Drupal developers or themers who understand Drupal administration's basic concepts. The book is now available in print and popular e-book formats, for more information please visit the book page: http://www.packtpub.com/drush-drupal-command-line-interface-users-guide/book