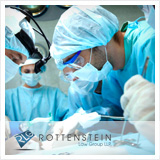 New York, NY (PRWEB) May 03, 2012
The Rottenstein Law Group, which represents clients with claims stemming from the adverse effects of vaginal mesh, is heartened by the U.S. Senate's version of the Medical Device User Fee Bill, which requires the FDA to issue a final rule on the use of unique device identifiers (UDIs) that will enable the FDA to better track medical device malfunctions.
UDIs are bar-code-like identification numbers that the FDA plans to assign to medical devices, according to an April 25, 2012, that appeared in the Wall Street Journal. The FDA would use those numbers "to search large databases of records that could include veterans' and other hospitals, as well as large insurance companies," the WSJ article states. "That could potentially allow the agency to know more precisely the rate at which a device is failing, and which patients have devices prone to malfunctions."
Congress first approved the FDA's plan to create UDIs in 2007, according to an April 19, 2012, on FierceHealthIT.com, "but FDA's UDI proposal has been stalled at the Office of Management and Budget (OMB) since July 2011." A bipartisan group of four senators recently introduced legislation that includes a UDI provision establishing a December 31, 2012, deadline for promulgating the UDI regulations.
The Rottenstein Law Group supports legislative initiatives that, like the aforementioned bill, increase the FDA's power to protect patients that receive medical device implants. The firm's Mesh Lawsuit Information Center, at http://www.vaginalmeshlawsuit.com, describes all of the issues vaginal mesh victims face and explains their options. It has features that allow for easy sharing, including links for automatic posting on Facebook and Twitter, specifically to enable visitors to spread the word about vaginal mesh implants and the dangers of vaginal mesh products. The Rottenstein Law Group, a personal injury firm, encourages visitors to link to its sites from their own blogs and websites to spread information about defective medical products and dangerous drugs.
About THE ROTTENSTEIN LAW GROUP
The Rottenstein Law Group is a New York-based law firm that represents clients in mass tort actions. The firm was founded by Rochelle Rottenstein, who has more than two decades of experience as a lawyer, to represent clients hurt by defective medical devices. http://www.rotlaw.com
Contact:
The Rottenstein Law Group, LLP
Rochelle Rottenstein, Esq.
1259 Veeder Drive
Hewlett NY 11557
(212) 933-9500 (office phone)
(212) 933-9980 (facsimile)
rochelle(at)rotlaw(dot)com
http://www.rotlaw.com
###