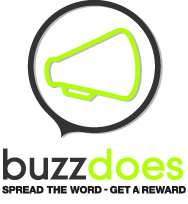 Tel Aviv (PRWEB) May 02, 2012
buzzdoes, which powers spread-the-word marketing for mobile app developers, today announced it is accepting nominations for the Buzz App Awards 2012. Through the contest, buzzdoes seeks to find the next great mobile app, which might otherwise go unnoticed in an overwhelmingly crowded market. Three winners will share $10,000 in prize money, as well as receive featured buzzdoes marketing campaigns to expand their user bases. Registration is free and open now.
The Buzz App Awards 2012 is open to any developer with an offering available via the Apple App Store or Google Play by June 11. Entries must include the buzzdoes software development kit (SDK), which can be downloaded free and incorporated into apps to automate word-of-mouth marketing and create viral distribution channels.
"There are too many amazing apps languishing unnoticed in app stores. Users want to find those standout apps, and the best way for them to do that is through the trustworthy recommendations of other users and their friends," said Assaf Kolirin, founder of buzzdoes. "Developers can tap into that opportunity by making it easy for users to recommend their apps and by pursuing honors such as The Buzz App Awards."
The Buzz App Awards jury -- which is comprised of industry experts such as Jeff Pulver and influencers from Wireless Industry Partnerships, 148Apps, The French Web and others -- will select 25 finalists by June 14, and then announce the three best apps on June 19. The first-place winner will earn a $5,000 prize. Second place will take home $3,000, and third place will receive $2,000.
To enter the contest, developers can submit their entries here by Monday, June 11.
About buzzdoes
buzzdoes helps app developers capture user attention in an overcrowded market. An all-in-one distribution, monetization and viral marketing solution, the buzzdoes add-on encourages users to recommend a developer's app in a fun way that leads to increased buzz, higher download rates, and more revenue. For more information or to contact buzzdoes, please visit our website or connect with us on Facebook and Twitter.