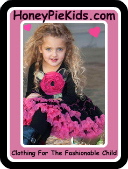 I know it can be hard to find clothing that is comfortable for some children
(PRWEB) May 08, 2012
For some children with spectrum disorders, tactile sensitivity can be a particularly difficult symptom. Even the most comfortable clothes can cause the feeling of skin irritation, interrupting the child's ability to play and enjoy daily activities.
HoneyPieKids.com specializes in helping these children by providing clothing that can help them be as comfortable as possible. Teres Kids is specifically designed with these needs in mind, providing clothing made completely from organic cotton. Each item is made with comfort as a top priority, with clothing in sizes 18 months to 8 years.
"I know it can be hard to find clothing that is comfortable for some children," Kathy Marrocco-Mclaughlin, owner of Honeypie Kids, says. "I want to make it easy to find clothing that they will like that still looks presentable and be affordable."
Children with spectrum disorders have challenges that affect many aspects of their daily lives. Parents of children with clothing sensitivities often find it challenging to find clothing that doesn't irritate their little one's skin. The clothing Honeypie Kids sells is sympathetic to this difficulty, incorporating comfort into every detail of the clothing it sells.
In addition to its comfortable, organic materials, this line of clothing also leaves the scratchy tag off, instead pinning it to the garment for easy removal. Scratchy tags are irritating to even those without sensitivities, so this is a welcome omission. Honeypie Kids also points out that there are no inside seams, making the organic cotton feel super soft against the child's skin. The clothing line is also made exclusively in the U.S.A.
Honeypie Kids also offers belts that children can put on themselves. Myself Belts come with Velcro closures, allowing for easy fastening for children with spectrum disorders and their parents. But this easy fastening doesn't sacrifice style. Belts are available in a variety of colors and fashionable looks that will add to any outfit. Parents can choose from leather or canvas belts in sizes 2T to 9/10. Myself Belts even sells adult sizes.
Hardtail Forever Kids has a line of comfortable clothing ideal for children looking for comfortable clothing, as well. The good thing about this clothing, also sold by Honeypie Kids, is that these roll-down bootleg pants and jeggings are comfortable for children with sensitivities. The line's knee-length color skirts also work with many schools' uniforms. This versatile clothing can be worn to school, parties, or for sports activities. Honeypie Kids sells yoga pants, skinny jeans, and skirts that can be helpful to children with sensitivities.
For children with spectrum disorders, Honeypie Kids offers a great option. Even better, time-challenged parents can shop online, allowing them to dedicate their shopping time to taking care of other activities.
To begin shopping, visit http://www.honeypiekids.com.