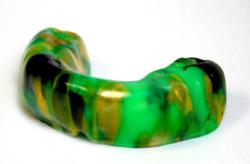 Tampa, FL (PRWEB) May 08, 2012
This year, more than 3 million teeth will be knocked out during youth sporting events and the cost of replacing a knocked-out tooth can mount to $20,000, according to the National Youth Sports Safety Foundation.
From now through December 31, 2012, Coast Dental and its associated practices are offering custom-made Fierce Mouthguards starting at just $80*. Unlike the boil-and-bite and stock varieties offered at sporting goods stores, these custom-fitted mouthguards are comfortable and make it easy to still engage in the rapid-fire dialogue athletes need with their teammates.
Athletes are 60% more likely to suffer an injury to the mouth when not wearing a mouthguard. Plus, well-made mouthguards may help prevent concussions, according to the American Dental Association. The ADA recommends athletes wear mouthguards for more than two dozen sports. Whether an athlete is tackling someone in football, batting elbows in basketball, or performing amazing feats on the uneven bars, Fierce Mouthguards provides protection.
"If only schools required athletes to have effective mouth protection," said Coast Dental's Chief Clinical Director Cindy Roark, DMD. "A dentist can prescribe a comfortable, custom-fitted mouthguard. Dental labs construct them with multiple layers of strong, flexible materials for maximum protection. A good custom mouthguard enables an athlete to speak while wearing it. When was the last time you saw a professional athlete competing in a contact sport without a mouthguard in place?"
Not only can athletes protect their smiles, but they'll look cool, too. They can choose their team colors or add their team's logo to their mouthguards for no extra charge.
Call 1-800-32-SMILE today to make an appointment.
About Coast Dental
Coast Dental, P.A., with its professional associations, is one of the largest providers of general and specialty dental care in the U.S. with 182 affiliated practices operating as Coast Dental, SmileCare and Nevada Dental Associates in Florida, Georgia, California, Nevada and Texas. Coast Dental Services, Inc. is a privately-held practice management company that provides comprehensive, non-clinical business and administrative services to its affiliated practices. The company is headquartered in Tampa, Florida. For more information, visit http://www.coastdental.com
*Visit http://www.CoastDental.com to view more details about this offer.