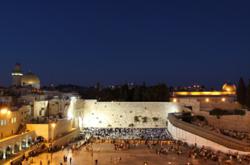 With new technology, EuroPanache, and around 3,000 years of history, we are creating extraordinary journeys worldwide to the past, present and future of one of the oldest living peoples
Paris, France (PRWEB) May 08, 2012
EuroPanache and JLife launch customized Jewish-themed travel experiences worldwide, including travel packages and tours in Israel, Europe and the United States.
With the rise of demand for authentic travel experiences and the extensive development of tourism infrastructure in Israel and Central/Eastern Europe, JLife and EuroPanache are now offering high-end and original Jewish heritage itineraries to both classic destinations and unique places of interest.
The launch includes a variety of niche travel packages and highly customized itineraries, such as roots trips, group trips for synagogues and organizations, kosher tours, historic Jewish tours, bar/bat mitzvah trips and Jewish food/wine tours.
The initiative is being launched through a variety of innovative strategies, including JLife iphone application, which hit apple store last month, EuroPanache's (http://www.europanache.com) extensive luxury travel partner network through consortia like Virtuoso and Ensemble, and JLife's online Jewish travel portal at http://www.jlifeguides.com. JLife is an association that has the support of prominent Jewish organizations such as the Foundation for the Memory of the Shoah, Ezra Venture, and the Foundation of French Judaism.
Director of JLife, Glen Feder says "We're very excited to be joining forces with EuroPanache, a top luxury travel company in their niche. With new technology, EuroPanache, and around 3,000 years of history, we are creating extraordinary journeys worldwide to the past, present and future of one of the oldest living peoples "