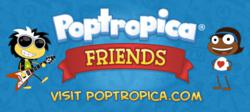 Boston, MA (PRWEB) May 02, 2012
Yesterday, Poptropica® quietly released "Friends" – the virtual world's new social network offering – and within 12 hours more than 500,000 kids from across the globe connected. "And this happened in complete and absolute safety," said Jess M. Brallier, publisher of Poptropica. "Not one piece of personal information was shared. Nor could it be. No other site has done anything like this."
With the new Poptropica Friends feature, players can now "friend" other Poptropicans and find out which of the site's 26 Islands they have solved, what country they're from, funny tidbits about their personality, and what they are up to on the popular virtual world for kids. They can also add their real-life friends and follow along with them on Poptropica as well.
With the new Friends feature, players have Personality Profiles to display their Poptropica personalities and show off their achievements in the game. Players can take new personality-based Pop Quizzes each day to add fun facts about themselves on their Personality Profile. These new features are completely safe -- there is no free chat option and no personal information is shared among players.
"We're extremely excited to see more than 500,000 friends around the globe be added within the first 12 hours of launching Friends on Poptropica," said Jeff Kinney, Poptropica creator and author of the bestselling "Diary of a Wimpy Kid" series. "The reaction has been extremely positive from fans, and we're proud to bring a completely safe friends offering to kids on our virtual world."
In addition,Poptropica Members now have access to more Member benefits within their Personality Profile. The Costume Closet lets Members save up to 30 outfits for their Poptropican, so they can creatively craft their favorite looks and switch between them as they wish.
The Photo Album stores photos that document key moments of game play. Players can collect photos by playing or re-playing Islands. Members will be able to view all of their photos and share them with friends who visit their Personality Profile. Non-Members will be able to collect all photos when they play and re-play Islands, however, they can only view one photo per Island without Membership.
"Poptropica's new Friends feature gives kids who love the game for the site's storytelling and quests a new, creative, and safe way to connect and interact," said Jess M. Brallier, publisher of Poptropica. "Now the millions of kids who arrive to Poptropica each month from different countries, speaking different languages and from extremely different cultures and traditions have a chance to join together to share their common interests as well as explore and celebrate their differences."
Named as one of TIME magazine's Top 50 websites of 2011, the Poptropica Islands have been visited by more than 224 million kids worldwide since its launch in 2007. Players come from more than 130 different countries and have their web browsers set to more than 100 different languages, ranging from Spanish and Sanskrit to Vietnamese and Croatian. All Poptropica Islands are free to play, and each represents a unique theme and challenge.
About Poptropica (http://www.poptropica.com)
Poptropica is a virtual world in which kids explore and play in complete safety. Every month, millions of kids from around the world are entertained and informed by Poptropica's engaging quests, stories and games.
Kids create a "Poptropican" character to travel the many Islands of Poptropica and use gaming literacy to enjoy a narrative that is often rooted in factual history. Problem-solving skills are honed as kids discover and solve mysteries unique to each Island.
There are always new areas to explore in this ever-expanding world where kids can collect objects, read digital books and comics, watch movies, and compete in head-to-head competition. Parents can always trust that their children are playing – and learning – in a safe online environment.
Poptropica is published by Family Education Network, a part of Pearson, the education, services and technology company. Pearson's other primary operations include the Financial Times Group and the Penguin Group.