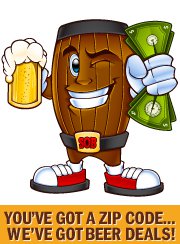 It's also become a battleground for people with very different opinions about what tastes like beer from the heavens and what should be used only as punishment for hated enemies with questionable palates
Houston, Tx (PRWEB) May 23, 2012
According to CNBC, Memorial Days ranks among the top off-premise beer-buying holidays in America. Consumers will buy approximately 61 million cases of beer for this saucy holiday, which comes in second only to Independence Day (with its 63.5 million cases). This May, people looking for the lowest advertised beer prices can visit http://www.SaveOnBrew.com on their computers or mobile phones and get a listing of all the sales, deals and bargains in their zip codes. This popular new website is the world's only beer price search engine – much like Google for beer.
"We're not really sure what makes Memorial Day such a popular drinking holiday," says co-founder Mark Davidson. "But for me, personally, I think about my great-great-granddad, who was in the Civil War, and I ask myself, 'What would granddad want for my life?' And, to be perfectly honest, nothing would make him happier than looking down at me from heaven and watching me pound back a 2-4 with my friends and family because… if he were still here, that is exactly what he would be doing."
This Memorial Day, many people will host backyard barbecues, visit cabins, or pitch a tent camping for the long weekend. What could be more refreshing than a case of beer to add to the social nature of such gatherings? SaveOnBrew.com lists the lowest prices of domestic mainstays like Budweiser, Coors Light, and Miller Lite, as well as craft brew favorites like Blue Moon, St. Arnold, Shiner and Sam Adams alongside imports like Guinness, Stella Artois, Modelo, Corona, and Heineken. Thousands of new listings are updated daily, with new stores, brands and deals being added all the time.
In addition to gathering price intelligence, site visitors can also peruse the "Cheap Beer Blog," which has become a "real meeting of the minds," as Mark Davidson describes it. "We like to think of our blog as a place where people can come to get really useful information to share with your friends – like which Major League Baseball stadium has the lowest beer prices or which states have the most asinine beer laws. But it's also become a battleground for people with very different opinions about what tastes like beer from the heavens and what should be used only as punishment for hated enemies with questionable palates. It really is quite amusing if you get into commenting. We try to keep it light-hearted and humorous. Our bloggers are a funny lot – either you love or hate them."
Yet, on a serious note: Memorial Day drinking should only be done in moderation, says Davidson. "Even though we're giving you the resources and tools to get the lowest price on beer – and more beer for your buck – we want to stress the importance of being responsible. Bury your car keys in the garden for the weekend, strap your persistent best friend to an armchair until he promises not to drive drunk, and make sure everyone eats a ton of greasy barbecue before consuming alcohol, so they are less likely to get alcohol poisoning. Don't feel you need to drink everything you buy in one weekend. Despite what some people say about beer that comes in green bottles, beer does not go stale."
Unfortunately, along with Memorial Day drinking comes a slew of alcohol-related emergency room visits. The holiday weekend typically sees 199 alcohol-related emergency room visits from minors each day, according to the Drug Abuse Warning Network. Many kids will combine alcohol and illegal drugs, which will make them 27 percent more likely to visit the ER. Not only do 5,000 under-aged drinkers die every year, but children who start drinking under age 15 are 6 times' more likely to become chronic abusers in adulthood. So, case in point: drinkers must be OVER 21 to enter SaveOnBrew's website and access the great beer deals.
About SaveOnBrew.Com: Founded in 2010 to help thirsty beer drinkers across the United States find the lowest advertised prices for one of the world's most popular beverages.