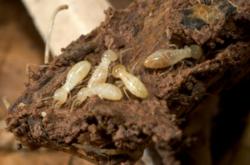 We know our customers are pleased that they can choose a new technology that stops termite damage quickly while treating their home and protecting the environment.
Springfield, VA (PRWEB) May 03, 2012
Affordable Pest announced today they are offering termite treatments using an innovative, new product called DuPont™ Altriset™ termiticide. Altriset™ works by paralyzing the mouths of termites within hours, stopping further damage immediately. The termite colony is then eliminated in three months or less and provides long-lasting protection.
Altriset uses a natural substance found in the bark of trees and shrubs of the genus Ryania. Studies have shown the active ingredient in Altriset™ provides rapid, effective and long lasting termite protection but with a toxicity level so low it has no known effects on humans, pets or plants.
"Altriset represents the next generation of termite control. Unlike other anti-termite products, DuPont™ Altriset™ stops termites in their tracks while significantly reducing the risk to our customers' families and pets. We know our customers are pleased that they can choose a new technology that stops termite feeding and damage quickly while treating their home and environment with respect," said Jason Fields, CEO of Affordable Pest.
In addition to its ability to provide fast and long-lasting termite control, Altriset™ has these low-toxic benefits:

No warning or caution label - The U.S. EPA requires registered pest control products to display a signal word on the label, such as "warning" or "caution," depending on their level of toxicity. Because of its low toxicity, Altriset™ is the first and only liquid termiticide that does not have any signal word.
No specific first aid requirements - Altriset™ is the first professional termiticide that does not require any specific first aid intervention if anyone is accidentally exposed. Unlike other termite treatments, there is no mandatory need to rinse eyes, rinse skin or call a poison control center after exposure to the product.
No personal protective equipment needed to apply - Likewise, when applying Altriset,™ the termite control professional treating your home is not required to wear special personal protective equipment such as gloves and eye wear.
To learn more about DuPont™ Altriset™ or to schedule a free termite inspection, contact Affordable Pest at 1-855-PEST-123 or visit http://www.affordablepest.com.
About Affordable Pest:
Founded in 2004 by Jason Fields, Affordable Pest has extensive experience in essential pest control services and is the local leader in pest control. Affordable Pest specializes in providing metro DC termites protection in addition to providing high quality pest control from Fredericksburg to Baltimore. Affordable Pest also provides full service pest control in Maryland, Virginia and the District of Columbia to thousands of residential and commercial customers. The company is headquartered in Springfield, VA.