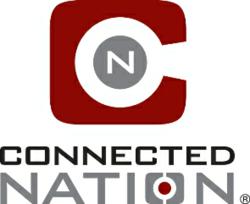 Washington, DC (PRWEB) May 02, 2012
Access the widget here
Download the report
Watch the video
National nonprofit Connected Nation today released a comprehensive report detailing the key role broadband plays in business performance and the implications for a continuing economic recovery. Connected Nation research shows that U.S. businesses generate $411.4 billion in online sales to consumers or other businesses, yet an estimated 1.8 million businesses remain unconnected to broadband.
"The economic impact of broadband is far-reaching and immense," said Connected Nation Chief Policy Counsel Thomas M. Koutsky. "But our research shows that there is a significant broadband adoption and use gap among businesses in many important areas of the economy."
The report, titled "The 2012 Jobs and Broadband Report, National Projections On How American Businesses Use Computers and Broadband to Grow, Hire, and Thrive," is based on surveys of 7,004 business establishments in nine states (Alaska, Florida, Iowa, Michigan, Minnesota, Nevada, South Carolina, Tennessee, and Texas).
Among the report's key findings:

Nearly one in three businesses (32%) earn revenues from online sales. This translates into more than 2.4 million U.S. businesses
Broadband-connected businesses bring in approximately $300,000 more in annual median revenues than non-broadband adopting businesses
Connected Nation estimates that 4.4 million U.S. business establishments have websites, including more than 2 million businesses with fewer than five employees
Teleworking also continues to have an impact in the marketplace, with 24% of rural businesses and 35% of non-rural businesses currently allowing employees to telework or telecommute
Minority-owned businesses in the U.S. account for $49 billion in annual sales revenues from online sales (or 12% of total online sales in the U.S.). A large percentage of minority-owned businesses report using broadband to handle some or all of their business functions (79%, compared to 76% of all businesses on average)
The report also reveals how high-speed Internet service is changing how job creators and job seekers identify each other in the United States; approximately 2.5 million businesses in the United States currently use the Internet to advertise job openings or accept job applications. Notably, 139,000 of those businesses today only accept applications via the Internet. This number can be expected to grow over time and has drastic implications for the 23% of U.S. households today that currently lack a computer.
"These findings have important implications for all policymakers and business leaders," said Connected Nation President and COO Tom Ferree. "Expanding broadband access, adoption, and use is a proven driver of economic growth and is vital to ensure the United States' place in the global digital economy."
For more than a decade, Connected Nation has worked to quantify the impact that increased broadband availability and utilization has on the economy. These efforts included statewide business technology assessments in Kentucky, Tennessee, and Ohio, dating back to 2007. Today, Connected Nation has programs spanning the U.S. that provide mapping analysis, research, community engagement, technical assistance, and digital training to grow broadband adoption and access in underserved markets. The broadband and business study is an annual study to provide insights in the business side of broadband adoption. Data collected in 2010 were aggregated into an initial report (released last May) that showed an estimated 2.1 million U.S. businesses without broadband, and that broadband-connected businesses bring in approximately $200,000 more in median annual revenues.
Connected Nation's Business Technology Assessment was conducted as part of the State Broadband Initiative (SBI) grant program, funded by the National Telecommunications and Information Administration (NTIA). The business survey results have been independently peer reviewed, and these surveys will be used by state and local leaders to help drive increased adoption and use of broadband. In particular, these surveys will be used to inform Connected Nation's Connected community engagement program where local and regional volunteers in dozens of communities are undergoing a broadband assessment and identifying technology needs and opportunities.
# # #
About Connected Nation: Connected Nation is a leading technology organization committed to bringing affordable high-speed Internet and broadband-enabled resources to all Americans. Connected Nation effectively raises the awareness of the value of broadband and related technologies by developing coalitions of influencers and enablers for improving technology access, adoption, and use. Connected Nation works with consumers, community leaders, states, technology providers and foundations, including the Bill & Melinda Gates Foundation, to develop and implement technology expansion programs with core competencies centered on a mission to improve digital inclusion for people and places previously underserved or overlooked. http://www.connectednation.org.
Follow Connected Nation on Facebook and Twitter.