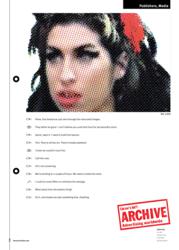 Vienna, Austria (PRWEB UK) 4 May 2012
Campaigns, BBDO Moscow
Great ads. No one knows how. Everyone knows where. See BBDO's new campaign inspired by iconic ads and Lürzer's Archive.
Lürzer's Archive is always flattered when people are inspired by the magazine and here is the latest installment... Created by BBDO, Moscow, the tongue-in-cheek campaign tries to imagine how some of the greatest ads published in Lürzer's Archive were (or were not) put together. "When we see a great ad, we all ask the same question: how the hell did these guys come up with this idea?" "It's all about the same question: how the hell did these guys come up with this idea?" says Luis Tauffer, Creative Director of BBDO Moscow.
"This was the inspiration of the campaign, and this is what Archive is all about: a magazine full of great ads that inspire and challenge us to create new ones," says art director, Lucas Zaiden .
The first wave of the campaign is made up of seven ads featuring stories about four famous prints: Billboard, Lego, Stella Artois and Guaraná Antartica, and three films: The Independent, Playstation and Guinness.
"We always look at some ads and wonder why we hadn't thought of that before, but the thing is, maybe even if we did, the gap between having an idea and having this idea aired is too wide. And a lot of funny (or not) stories happen in between," says Lucas.
"Copywriter Paulo Lima and me were looking at the Billboard campaign (...) It's way more intriguing to think about how the guys from Almap BBDO created the faces. We started thinking that they had the images pixelated and then matched each face with the pixels. But then somebody told me that actually those are screenshots from videoclips and an illustrator from the agency created a plugin to do the effect."
"We thought: 'bastards'. But we also thought that there could have been a much worse, complicated and funny tale behind this. That's how the stories came about. When I was about to art direct them, I couldn't think of another way to frame those stories other than using Archive's grid. That's how the campaign was born and it's beautiful to see work that we've been gestating for so long finally being aired, thanks to BBDO, Moscow." Quote by Lucas Zaiden, BBDO Moscow.
The campaign will be supported by activities during 2012's Cannes Lions Festival including some upcoming surprises.
"Stay tuned," says BBDO. "Everone will have the chance to be a co-author of this campaign."