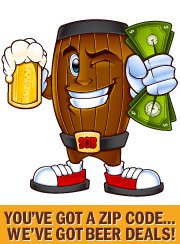 We're finding that convenience isn't the only factor driving beer sales these days, price is also a growing concern
Houston, Tx (PRWEB) May 14, 2012
According to The Beer Institute, the most popular places to buy beer outside of bars, restaurants and stadiums include: Convenience Stores (32%), Liquor / Beer Stores (20%), and Supermarkets (8%). What ever happened to buying beer direct from a brewery? What about smaller retail stores that feature terrific sales on beers? How can grocery stores get a larger piece of the convenience mart's pie? All these questions are tackled by a new site called SaveOnBrew.com, which is hailed as "the world's only beer price search engine."
"What we're finding is that convenience isn't the only factor driving beer sales these days," explains Save On Brew founder Mark Davidson. "Price is also a growing concern, especially in this sluggish economy. We also find that there are a lot of smaller local businesses and breweries that aren't getting enough advertising exposure in their markets. We wanted to find a way to bridge the gap."
SaveOnBrew.com is a Google type search engine made specifically for beer. Consumers simply enter their zip codes to receive a listing of low beer prices and sales in their geographic region. There are listings from coast-to-coast, covering every marketplace, big and small. Beer search listings can be narrowed down by brand, store, type, container type, and quantity. Visitors can peruse the site on their mobile phones as well and even access maps to the nearest affordable beer vendor.
The site has gained a quick surge in popularity, with close to 150,000 page views per month, making it a tremendous resource for small retailers, brewers, and sellers who are looking for new ways to reach larger markets. To obtain a free listing at SaveOnBrew.com, beer sellers may contact the site owners directly with information about their sales and beer pricing. Additional ad space is available for purchase at affordable prices.
Mike and Mark Lenzi of Franklin Liquors in Massachusetts and have already seen big revenue increases since they started advertising at SaveOnBrew.com. They explain, "We're a small, family-owned business that sells beer… and we're glad people finally know that our prices are the same – and in many cases better – than the big box stores and supermarkets." They add that "the future is definitely in online advertising."
"Hey, if you run a one-stop-party-shop that sells beer, cigarettes, hair weaves and contraceptives, we want you to contact us," says site co-founder, James Smith. "If you're a craft brew company who sells to the public, we want your prices. Whether beer is your main source of revenue or you just have a couple cases in back, we want to be your megaphone to reach the masses."
About SaveOnBrew.Com: Founded in 2010 to help thirsty beer drinkers across the United States find the lowest advertised prices for one of the world's most popular beverages.