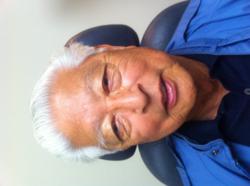 My vision is miraculous, such an improvement, I could not be happier. And I don't even have to wear glasses
Los Angeles, CA (PRWEB) May 03, 2012
Celebrated corneal surgeon and Lasik specialist Dr. Rajesh Khanna recently performed cataract surgery on a most deserving patient. Japanese patient Hiroaki Okayama suffered from macular degeneration and poor vision from cataracts for a long period of time. Hiroaki had almost given up hope, he was unable to drive and perform daily activities. His poor vision was making life extremely difficult. He could no longer participate in fishing his favorite hobby nor enjoy any other activities that require adequate vision.
Macular degeneration is a medical condition that affects adults' age fifty and above and ultimately results in vision loss in the center of the eye known as the macula. If left untreated it can often cause serious visual impairments and even blindness. Individuals suffering from this condition find it difficult to recognize close objects and faces. Cataracts are the clumps in the eye formed by the arrangement of protein and water. These clumps create a blockage to the light rays, this causes vision loss. The cataracts cause patients to experience blurriness and poor vision in spite of glasses. If left untreated for long enough, the cataract can extend and eventually cover the entire surface of the lens, causing blindness. The combination of cataracts and macular degeneration makes a person functionally blind.
Fortunately, Dr. Rajesh Khanna is familiar with this condition and has experience treating patients that are diagnosed with macular degeneration and cataract surgery. This requires minimally invasive cataract surgery. Hiroaki's surgery was painless and did not involve any needles, stitches, nor patches. The cataract surgery and the foldable lens implantation took less than 10 minutes.
Hiroaki was extremely pleased with his results. His vision has been drastically improved and he no longer has to worry about his vision disrupting him or stopping him from doing all the activities he enjoys. He was extremely grateful to Dr. Khanna for excellent skill and expertise in treating the macular degeneration condition. After surgery Hiroaki remarked, "My vision is miraculous, such an improvement, I could not be happier. And I don't even have to wear glasses" Dr. Khanna urges all patients suffering from macular degeneration to seek treatment for their condition and understand the benefits of cataract surgery.
The Khanna Institute maintains two locations in California for patient convenience. One is located at 240 S. La Cienega Blvd., #250 in Beverly Hills and the second is at 179 Auburn Court #1 in Westlake Village.
ABOUT RAJESH KHANNA
Dr. Rajesh Khanna is an internationally recognized LASIK and refractive vision care specialist, and the team ophthalmologist for the Men's USA Water Polo Team. He graduated among the top of his class in medical school and is a member of the UCLA faculty. Utilizing his skills to instruct a new generation of eye surgeons on the safest and most effective techniques and procedures, he pioneered many of today's techniques in LASIK and refractive surgery like cure of keratoconus. Khanna invented a variety of instruments to aid in surgeries and speaks at a myriad of national and international professional venues each year. He participates in refractive surgery conferences and wet labs worldwide. Featured extensively in print and broadcast media, he's received prestigious awards and honors from the World Health Organization. He's a member of the American Medical Association, the prestigious American Academy of Ophthalmology and the American Society of Cataract and Refractive Surgery, and certified by the American Board of Ophthalmology.