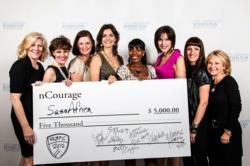 Houston, TX (PRWEB) May 03, 2012
The Rice Alliance for Technology and Entrepreneurship has awarded two new awards for Courageous Women Entrepreneurs at the 2012 Rice University Business Plan Competition. Solanux, Inc., University of Idaho, was awarded the $20,000 prize for their patented potato food ingredients which contain high amounts of resistant starch (RS) which help lower the glycemic index response, improve insulin levels and lower fat and cholesterol levels. SaSaAfrica, Massachusetts Institute of Technology, was awarded the $5,000 Courageous Women Entrepreneur's Award. SaSaAfrica connects craftswomen from developing countries to the global marketplace using a simple mobile phone.
To be eligible for the Women's Entrepreneur cash prize, graduate-level business plan teams must have, in addition to standard qualifications: a woman as CEO or in a top leadership role or a minimum 25% woman-ownership, and all teams must have at least one female on the presenting team.
The prizes were sponsored by nCourage Entrepreneurs Investment Group - Cindy Boyd, President of Sentigy; Elizabeth Wiggins, Director, various community boards; Lamar Mathews, President of GP of Falcon Partners, Ltd.; Shelby Scarbrough, President, Practical Protocol; Winnie Hart of The H Agency, Sue Hrib of Signum Group; Suzy Ginzburg of Global Communications; and Dr. Lynn Kirkpatrick of Ensysce Bio Sciences. United by their passion to encourage the next generation of women entrepreneurs, and recognize the courage necessary to pursue an entrepreneurial journey, the nCourage team applauds the efforts of this year's contestants.
For additional information about the Rice Alliance for Technology and Entrepreneurship and the Jesse H. Jones Graduate School of Business visit http://business.rice.edu.
The H Agency – http://www.thehagency.com - is a strategic marketing and creative agency. The company has grown from a local New Orleans design firm into a regional strategic marketing and creative agency that develops marketing programs and brand strategies for companies. In its 20+ years of service to clients, The H Agency has been recognized with more than 125 top industry awards for excellence in marketing, communications and design.
Contact:
Winnie Hart – company president and founder
504.522.6300
Winnie(at)thehagency(dot)com