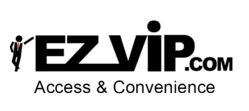 For the first time, customers can now book their tables in advance after taking a complete 360 degree tour of a nightclub or event. -- Steven Meyer, VPIX CEO
West Palm Beach (PRWEB) May 04, 2012
Today, Alashe Nelson of EzVip announced the launch of the company's revised website and booking engine for nightlife venues and events. Using EzVip's website, venues can reach out to and book more customers through EzVip's new booking engine by implementing a 360° virtual tour of their entertainment facility.
Al Nelson, CEO of EzVip, was one of the entrepreneurs showcased on ABC's Shark Tank in January 2012, receiving funding from Sharks Mark Cuban and Daymond John.
Just two weeks following the Shark Tank airing, EzVip partnered with Virtual Pictures Corporation (VPiX™) to provide the 360° views for nightclubs and venues to showcase their entire facility with full virtual reality walk-throughs.
"This is an exciting time for us," says Al Nelson. "We've put together a great line up of value-add services to allow night clubs and other venues to showcase their events online. The mash up of our on-line services now supported by VPiX™ lets us attract and sell more tables and reservations for our clients."
"For the first time, customers can book their tables in advance after taking a complete 360° degree tour of a nightclub or event," adds Stephen Meyer, CEO at VPiX™. "We provide EzVip with a simple way of adding reservation forms and an e-commerce system directly inside the virtual tour," adds Stephen. "It lets people who might have never been to the event to find and book the exact table the want and pay for it on-line."
"We will be letting customers share their purchase of the event on-line by pushing a notice of their purchase out to their friends on Facebook," adds Al. "This way, they can brag about being at the closest table next to the stage if they want."
Plans are now underway for EzVip to begin rolling out their services in Las Vegas, New York and Los Angeles. For more information, please visit http://www.EzVip.com
About EzVIP EzVip provides access and convenience to its customers by allowing them to pre-purchase their night out to the most elite events in the nation directly through their computer or mobile device. EzVip prides itself in partnering only with the best organizations to ensure that their customers have an unforgettable experience that could not be obtained elsewhere. For more information, visit http://www.EzVip.com or follow the company on Twitter @EzVip.
About Virtual Pictures Corp (VPiX™) is changing the world by teleporting people into a high Definition (HD) tour. VPiX tools and services enable our customers to create jaw-dropping virtual experiences of any place around the world and deliver them through websites and wireless to any computer, tablet or smartphone. VPiX technology is used by businesses, resorts and Fortune 500 companies to strengthen their brands, decrease marketing expenses and make their cash registers ring. For more information, please visit http://www.VPiX360.com or follow us on Twitter @vpix360