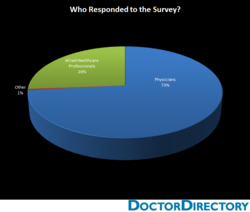 Asheville, NC (PRWEB) May 04, 2012
In recent years, the use of online social communities for professional purposes has been steadily increasing. DoctorDirectory, a leading marketing solutions company serving healthcare professionals and pharmaceutical industry clients, surveyed members of their professional community to find out to what extent HCPs are using this service.
DoctorDirectory randomly recruited HCPs across the United States to take part in our "Social Media" survey. 671 physicians and allied healthcare professionals of all specialties were eager to take part.
Surprisingly, nearly 40% of responders revealed that they've been practicing medicine for 15 or more years.
Here are more of the findings:

88% of HCPs responding to the survey are involved in online social communities for professional purposes
The majority of HCPs say they log in to these sites about once per week
NP/PAs appear to be more engaged than their MD/DO counterparts
For those that are not involved, "time constraints" and "privacy/security" were most often cited as the culprits.
HCPs are most interested in using social media for educational purposes and to connect with their colleagues.
Less importance is placed on using online professional social communities to connect with patients or to discuss aspects of practice management.
For more information about these surveys and DoctorDirectory's fingertip access to HCPs, please contact DoctorDirectory by email or calling 828-255-0012 x 105.
About DoctorDirectory
DoctorDirectory specializes in providing healthcare professionals the opportunity to participate in Market Research and other programs that help shape the healthcare industry. DoctorDirectory's exclusive IncreaseRx marketing solution provides pharmaceutical brand teams with access to virtually all U.S. prescribers and generates measurable and verifiable incremental revenues in a gain-share arrangement. Visit ContactDD.com to learn more. Follow DoctorDirectory on Twitter @ContactDD.