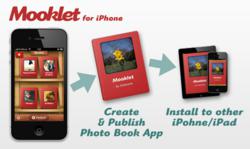 My friend was very pleased with the Mooklet I made from her wedding photos and installed it on her iPad immediately.
Kyoto, Japan (PRWEB) May 02, 2012
Mooklet Project announced a sneak preview website presenting several compilations created with "Mooklet", the new way to create dynamic photo books on your iPhone/iPad.
"Mooklet for iPhone" is a new and unique application due to be released mid-May. Just choose your favorite pictures from a photo library, and you can create and publish your Mooklet, including a unique layout and design as well as beautiful animations, in just a few minutes.
Your published Mooklet is a HTML5-based web application, so users can view it via their browser or by installing it as an app on their iPhone or iPad.You can launch your Mooklet in full-screen mode and interact with it just like a native photo book application built with Objective-C.You can give out your Mooklet URL to family and friends, and they can easily view or add it on their iPhone/iPad. In addition to being a great tool for photo sharing, Mooklets can also be used as a picture book, a company portfolio, a pamphlet, and other forms of publication, and can be quickly distributed to the audience or customers.
Toru Kobayashi, the founder of Mooklet, commented, "We're very excited to introduce this creative application. It can transform your favorite photos from your iPhone photo library into a wonderful photo collection - a Mooklet - and we believe this app makes a user's photo experience more fulfilling and fun.
One beta tester said: "This application has become one of my favorites. It surprised me how fast it can create dynamic photo books after choosing some photos from my library. My friend was very pleased with the Mooklet I made from her wedding photos and installed it on her iPad immediately."
Beta testers' powerful sample works can be seen by here. Please access it with your iPhone/iPad.
And sneak peek snapshots are here.
http://mooklet.in/static/snapshots/
Follow us on Twitter http://twitter.com/mooklet_in and on Facebook at http://facebook.com/mooklet .
About Mooklet Project:
Mooklet Project was founded by a professional programmer with a career of more than 16 years in Kyoto, Japan, in 2012. The UI was designed by the professional design team "3FLab" from Tokyo, who have worked on applications, product packaging, movies and more.The server side is supported by a professional engineer from a mobile back-end. He is working in cooperation with a small but established organization managing the co-working space "Kowaki" in Kyoto.