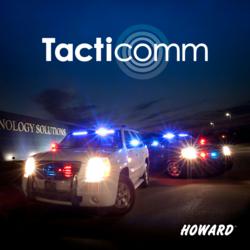 "We provide solutions for both small-scale operations and major mobilizations—everything from single components to complete mobile communication packages."
(PRWEB) May 04, 2012
Ellisville, MS: Howard's Tacticomm recently won the Mississippi contract for statewide replacement of computer mounts in each of their highway patrol vehicles. Up to 550 units will be equipped with new computer mounts, mobile printers, and USB hubs.
With law enforcement agencies becoming increasingly dependent on mobile computers as they go about their task of caring for the public welfare, it was concern for the welfare of their officers that prompted the Mississippi Highway Patrol to begin the process of having computer mounts replaced in all of their vehicles.
The Department of Public Safety's Director of Communications, Donald Loper said, "There were several reasons we decided to replace the computer mounts in our patrol cars; standardization of equipment was one, but our primary reason was safety. We felt that the lack of stability and limited durability of the old mounts made them an impediment to the officers in certain circumstances."
The sudden stops, turns, and unexpected maneuvers of a highway patrol vehicle can easily turn a laptop into a dangerous projectile, damaging the laptop and, more importantly, jeopardizing the safety of those in the car by increasing the likelihood of a motor vehicle accident.
Heavy-duty HavisShield mounts, strength-tested to the highest industry standards, help to minimize the risk of damage and injury by providing in-vehicle operators with maximum stability as they access vital information. Their ergonomic design allows the consoles to be positioned in a variety of ways, making it easy for officers to see, reach, and operate the computer while keeping it out of a passenger's way.
Howard Tacticomm representative, Brian Bilbo said, "Naturally, we were delighted to win the contract. We've already replaced approximately one-quarter of the Mississippi units. We expect to complete this assignment within the next few months."
Howard government sales specialist, Cindy Rayner added, "We're very accustomed to working with government agencies like the Highway Patrol. We recently completed specialty installations for all Nebraska State Patrol vehicles and replaced 50 outdated mounts for their city police in 10 cities. This is an ongoing project, as we will be upgrading equipment for all of their county vehicles as well."
About TACTICOMM
Tacticomm is Howard's new mobile command and communications solution for emergency response and public safety management. It provides solutions suitable for small-scale daily operational activities and major mobilizations alike, from single components to complete mobile communication packages. Learn more at http://bit.ly/pr-tacticomm.