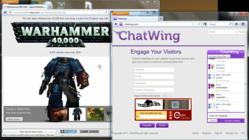 Seattle, WA (PRWEB) May 04, 2012
The Warhammer 40K franchise has already reached thousands of players all over the world. This can be proven by looking at various Warhammer 40K websites and blogs. The fan base is still growing because Warhammer 40K's story is not yet concluded. This major gaming niche never missed the eyes of Chatwing's developers. This is why they created a website chat tool that can help Warhammer 40K fans connect with each other and share their gaming experiences.
Chatwing operates on a basic chat platform that can be understood by many people. This rate of simplicity led to Chatwing's stable ranking ever since it was released. With few clicks, the user will now be connected to the rest of the world. Chatwing is also versatile and it can be compatible to different online communities. This chat box covers many topics, creating a whole new chat experience for its users.
Chatwing's developers have recommended the widget to amateur Warhammer 40K bloggers. These bloggers were fans of the tabletop game and Warhammer novels. "They just talked about the glory of the Emperor. They are really, really big fans. On the technical level, they discussed the best paint styles for their tabletop models. Beginners asked some questions on how to collect the best pieces. They were entertaining to watch," Says Ivan Diamond, one of Chatwing's developers. The purpose of the short observation is to determine the usefulness of Chatwing and how it can improve the activity of any blog.
Chatwing is designed to become an efficient blog chat tool. Anyone can install it to their blogs in under few minutes. The first step is registration. Here, the user just needs to input his blog's domain name. The second step is customization. The user can now modify the height, width, color, and title of the shout box. Once everything is complete, Chatwing will generate the HTML code and the user must paste it to his blog's custom design panel. Chatwing usually goes live in under few seconds.
About Chatwing.com
Chatwing.com has developed live chat software for websites and blogs. It caters to different online communities due to its high rate of connectivity. Everyone can create a customizable live chat box feature in 1 minute or less. Users have the ability to customize the size, color, and fonts of the chat product. The ability to chat via social media accounts such as Facebook and Twitter enable Chatwing to offer a personal and unique real-time experience to all sites. Chatwing is 100% free and very easy to use.